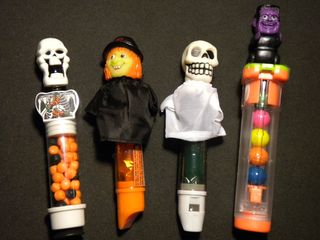 There's this wonderfully spooky short story written by Montague Rhodes James called "Oh, Whistle, and I'll Come To You, My Lad." A solitary walk along the shore leads to the discovery of a whistle. That whistle calls something forth that were better left unsummoned. I think of his story every time I see Halloween candy whistles like the likable witch and skull-headed ghost here.
After all the candy is gone, you can either play with them, they're finger puppets, or blow the whistle to summon forth your own nasty trickster; although today it would probably be an annoyed adult tired of all that noise telling you to quit or else.
The skeleton and Frankenstein Monster candy containers at the ends aren't finger puppets, but still fun to play with. The skeleton has a suction cup on the bottom, and the skull is on a spring. You can wobble him but good as the mood strikes you. The purple Monster has such a ghoulishly giddy grin, you wonder why he's so happy. Maybe it's because he's sitting on top of all that colorful, sweet candy, waiting to be picked up by his outstretched arms. Just for you.