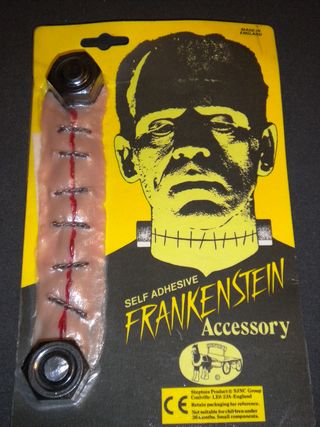 Being a mad scientist is always daunting. What with digging up cadavers, piecing them together in the dead of night, and having your fiancee always dragging in some old teacher or such to interfere with your work--not to mention those numb-skull assistants the Goldstadt employment agency keeps sending you--you can never seem to get your work done.
Never fear; Steptoes of England steps in to lighten your burden with their Self Adhesive Frankenstein Accessory. Even Wolf Von Frankenstein would appreciate the workmanship. And look at that wonderful black and yellow image of Boris Karloff's creation happily demonstrating the effectiveness of this wonderful suturing appliance with the all-essential neck bolt hardware.
You'll have a Happy Halloween with this one for sure.