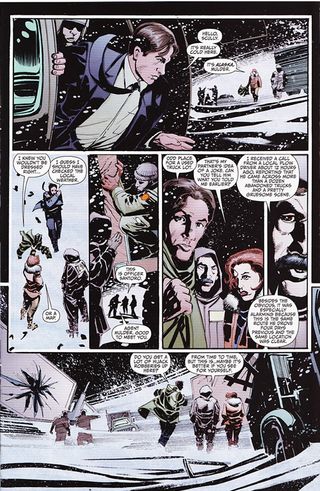 Zombos Says: Very Good
We've been on a lot of murders, Scully, and for the life of me, I can't recall one involving a 25-foot human popsickle. (Fox Mulder)
Wainright, Alaska.
It's going to be a very long night for Scully and Mulder: a human popsickle of headless truck drivers is sticking high out of the ground; Mulder didn't read the memo about wearing a coat; and fanged-fiends with a taste for blood and guilty pleasure for mangling their prey are afoot in the snowstorm.
Steve Niles, along with Adam Jones, serves up 30 Days of Nights' sexless, violently madcap vampires with the sexy Dana Scully and devil-may-care, madcap as a Fox Mulder in this smart crossover, six-issue series from IDW and Wildstorm.
The art by Tom Mandrake serves up the snowy drifts with the fearful nocturnals to chilling effect, making this twenty-two page issue a pleasing mouthful of setup for what promises to be a gripping story even Chris Carter can sink his teeth into for the big screen. (Chris, you owe us one, big time.) The ending splash page is one of the best hooks I've seen for picking up the next issue.
The usual old--"just stay out of our way"-- rivalries abound. Fox goes head to head with "Frenchy" and the local--way out of their depth--FBI contingent as evidence is bagged and tagged. Scully warns Mulder not to jump to the scent, but he's already hot on the trail after he learns blood's the one thing in short supply.
Between Frenchy and Mulder, want to bet who wins before the night is over?
This issue provided by DC Comics for review.