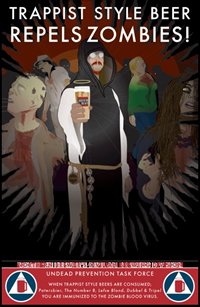 Godforsaken zombies benefit a lot from religion in horror movies and fiction. Ironic, isn't it? Or is it? Perhaps playing the damnation game makes them more attune to that infinite something that lingers over all of us, commands us, delivers us, curses us, or simply ignores us.
The members of the League of Tana Tea Drinkers ponder that old time zombie religion. No collection box money necessary and you won't need to light any candles or bend a knee.
Monster Land glorifies the undead: Beyond the rotting veneer of your everyday reanimated corpse, there lies a host of archaic religious meanings stretching from Christianity to mythology of Ancient Sumer.
TheoFantastique explores infection versus resurrection: Where once they shuffled, now they run. Initially born of forbidden voodoo rituals or the sign of a religious apocalypse, for the past decade zombies have slowly metamorphosed into the by-products of something else entirely.
Groovy Age of Horror resurrects the Final Judgment: Zombies, vampires, Frankenstein monsters, beneficiaries of monkey paw wishes, etc. are generally thought to embody our fears of returning to life from the dead in some wrong way. But is there a right way?

Gospel of the Living Dead preaches zombies and religion: Zombies are probably the most human monsters.
Dr. Gangrene looks at all that flesh eating: The eating of flesh and drinking of blood are staples of horror movies, yet when you think about it they're also both major themes of Christian theology, as ghoulish as that sounds.
Vault of Horror gobbles up transubstantiation: Just as Christians yearn to take in the power of Christ, and eat his flesh to do so, so does the zombie yearn to absorb the living.
Uranium Cafe wisely ignores religion altogether in The Invisible Invaders: The story, like many of the period, centers around the evils of atomic power and research. Almost anything evil found in the films of this period could find their origins in atomic research gone awry. And how much awry can an experiment go than to have a hand held test tube suddenly erupt into an atomic explosion.
Lost Highway makes sure to include one token rotten zombie movie for our pleasure: A local witch doctor's daughter dies from some unnamed cancer and so he opens the door to hell for vengeance on the scientists. Usually Hell is only open weekends and Fridays.