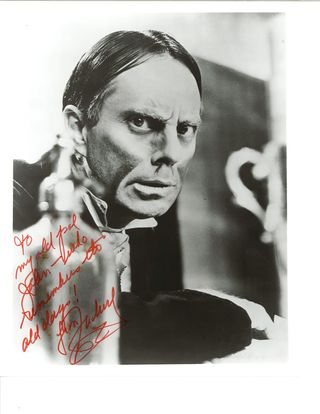 Far too many years ago than I can fully recall, there was this little store wedged into a cramped side street in New York City. I'd visit it every so often in the company of my dad, as I was too young to travel or carry much money back then, of course.
I have one somewhat flickery memory of the store's proprietor standing behind a counter stacked with photographs; real photographs, not the digitally rendered or stored ones so ubiquitous today, but the developed-in-stinky-and-toxic-solution ones: thousands of them. They teetered, tottered, and sprawled across the counter top, and spilled out in reluctantly tidy alphabetical order into wooden bins, dozens of them, which filled the small floor space, creating cramped isles to browse from.
The photographs or stills were of actors and scenes from movies. I remember one visit in particular when I discovered Flash Gordon stills. My dad argued on the price--I forget how much--so I had to choose a few from the handful I held. Buster Crabbe was a certainty. Ming the Merciless (Charles Middleton) and King Vultan (Jack 'Tiny' Lipson) were keepers. Dr.Zarkov (Frank Shannon) and Prince Barin (Richard Alexander) had to go. I held tightly onto Princess Aura (Priscilla Lawson), but my dad wasn't too keen on her because of her wonderfully skimpy outfit. He tried pushing Dale Arden (Jean Rogers) on me, instead, but she just didn't have the same appeal for me. Dale was too darn wholesome. I held my ground and wound up leaving with the princess, the dashing hero, the merciless villain, and the second banana bird-man.
Shoot ahead too many years to forget. I don't attend horror conventions often, but when I do, the most enjoyable experience for me is meeting the people of my nightmares and getting their autographed photos. These actors and creative folk are responsible for much of my misspent childhood, some of my awkward teenage years, and most of my definitely questionable, but enjoyable, dotage. Here's a rogue's gallery of some of the ones I've met so far. (click to enlarge)