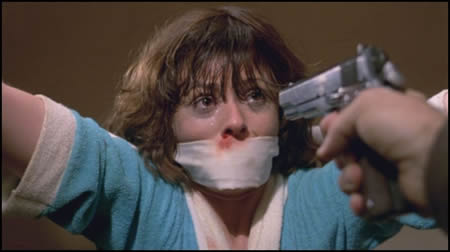 Zombos Says: Good
Scotty (the impossibly thin Rebecca Balding) needs an apartment badly. She's late to the college semester and the college dorms are filled. At the end of an almost fruitless day of apartment hunting, shown in humorous vignettes of crappy places and dubious renters, she finds a small, comfortable room in a big, brooding, beach-side house at the top of a hill. Three other college latecomers join her: there's the spoiled rich Peter (John Widelock), the feisty, bosomy, fun-loving girl Doris (Juli Andelman), and the hunk, Jack--who makes sure to keep his shirt off or unbuttoned as much as possible because he's the hunk--played by Steve Doubet. Living in the house are the brooding Mrs. Engels (played by Mrs. Munster herself, Yvonne De Carlo), who stays mostly up in the attic; the quiet and ill at ease Mason Engels (Brad Rearden) hangs out in the bedroom across the hall; and everyone's unknowingly waiting for a family secret about to become known. Violently. Now guess which one of the college kids gets killed first.
The family secret is also a natural one for an American Gothic story rather than a slasher movie. It takes its time to reveal itself as the tightly wound and fragile Engels' family composure unravels, and not much mayhem occurs until Scotty is tied up in a closet with her blood about to be spilled across the floor. Deep focus (in an interview on the DVD using a split diopter to accomplish this is mentioned) keeps both the desperate Scotty, who's eyeing the closet doorknob, and the closet doorknob that is just out of reach, in sharp focus as the knife-wielding killer comes closer: a surprising giallo-styled visualization in an American Gothic framework, culminating in a frisson of terror when door edge, sharp knife, and Scotty's hand get awfully close to each other.
As one family secret is exposed, another one causes Mason, who's already emotionally tighter than his buttoned up and tie-less collar, to retreat into fantasy, leading to more violence. There is not much gore or body count here, but Jim and Ken Wheat took over an ailing, unfinished movie and penned it into a 'coherent' family tragedy playing out in an old and not so dark house atop a lonely hill. Imagine Henrik Ibsen writing a slasher play and you wouldn't be too far off the mark describing The Silent Scream. Bridging together existing scenes with clearer motivations, stronger relationships, and a linear progression that slowly builds drama, The Silent Scream is a low key slasher easily lost among the more traditional murderfests of the 1980s like Sleepaway Camp and Friday the 13th because of its less frenetic, more television-styled direction.
The Silent Scream is not much of a mystery; neither is it much of a blood-flowing slasher story. The acting ranges from bread and butter, courtesy of television veterans Cameron Mitchell and Avery Schreiber, to studio classy with Yvonne De Carlo and Barbara Steele. In-between, the college kids act much like college kids do in a slasher movie--they want to have fun and fool around--but there's a more natural and slower tone to their behavior here. This naturalness makes them more personable. I didn't want to see any of them die. Peter does act like a jerk when he's drunk, but he's spoiled, so he's a predictable jerk. Doris is fun-loving, but not the kind that usually leads to trouble in a horror movie, and Scotty and Jack do eventually snuggle, but they take their time before jumping into bed.
This is the movie Ti West should have remade instead of his homage to 1980's slashers, The House of the Devil. Both keep to the same pace, both have an impossibly thin college girl in danger, and both involve families with deep dark secrets, who live in old houses with horror waiting in the attic. But The Silent Scream has a better story and better directorial nuances, making it a more chilling and distinctive movie that draws you in instead of trying to impress you with the director's ego.