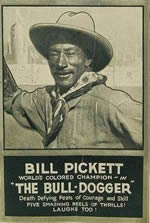 While mailing the American Vampire comics to contest winners today, I noticed these nostalgic stamps at the post office. Westerns were the mainstay of Universal Pictures before they discovered more lucrative box-office receipts with monsters. Cowboy serials were the ideal world of every white boy growing up in a long ago era, when American pride, fortitude, and integrity were as sociable and wholesome and as much a given as eating mom's apple pie with a glass of milk on a Sunday afternoon.
As for me, I saddled up with the Lone Ranger and Tonto, rode the trails with Roy Rogers and Dale Evans, and I always hoped to get the pretty girl, kick-ass a little harder with the villains than Tom Mix, and strum the guitar strings faster and straighter than Gene Autry. I'm still working on his Cowboy Code. I wish some of the people I meet and read about these days would work on it, too.
Missing from this wonderful line-up of Americana is Bill Pickett. He's a black cowboy. Not too many folks sashayed up to the box-office to buy tickets for movies with black cowboys back then. But there's black and white in that silver screen all the same.
Way back in 1923, rodeo sensation Bill Pickett became the first black screen cowboy in The Bull-Dogger, and he was just the first in a long line of cowboys of color who galloped through movie history alongside their more mainstream, pale-faced peers. (Robert Silva, The Good, the Bad, and the Black Cowboy)
Looking at these wonderful stamps reminded me of Stephen Avalos' The Ghosts of Edendale, a creepy twist on the invincibility and purity of men wearing white ten-gallon hats, and Dead Birds, a Lovecraftian-western best not viewed alone and after dark.
Which Western horror movies would you recommend? And if you dare say Billy the Kid Versus Dracula, better put up yer dukes, cause them's fightin' words! (Click on the graphic for a larger view while you're ponderin'.)