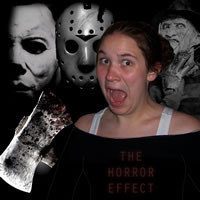 Many fans of horror, amateur and professional alike, have devoted themselves to blogging about the thrills, chills, and no-frills side of the genre as seen in cinema and print. In this ongoing series that highlights the writers behind the blogs, we meet the unique personalities and talents that make the online horror scene so engaging. Up close and personal.
In this installment, B-Movie Becky of The Horror Effect explains how horror crept into her life.
Upon the lap of my guffawing father, I was raised on the horror film. Armed with a clunky VHS camcorder, I fell in love with filmmaking at the age of thirteen in my rural hometown of Maple Valley, Washington. Countless short films and bottles of fake blood later, I went on to earn a Bachelor of Fine Arts in Film Production, with minors in Honors and Legal Studies at Chapman University in Orange, California. After graduation, I married the man I met over a friendly game of Counter-Strike nine years ago. We have since graduated from Counter-Terrorist vs. Terrorists to Infected vs. Survivors. When it comes to filmmaking, we are partners in crime and are constantly working on new projects. I am currently editing a documentary on ecology for a non-profit organization and continuing to build my resume with film experience.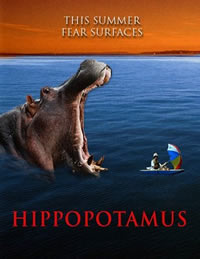 I've been in love with the horror genre for so long that it's difficult for me to pinpoint the origin of my fandom. I suppose that it was my father's twisted sense of humor that first piqued my interest, as I remember watching horror movies at a very young age and hearing him laugh at all the gory scenes. Perhaps it began as a way to connect with my dad and developed into a nostalgia blended with a desire to see life on the fringes. As a filmmaker, I've always been interested in exploring extremes and fantastical elements—through emotions, humor, scenarios, and style. Horror, in particular, is a great way to venture into such things and a fun genre to mix with action and comedy. If I were to pick a specific moment that propelled my love of horror, it would be seeing John Carpenter's Halloween at the age of 12. Since then, I wanted to make horror movies and was committed to a lifetime of scares.
I began The Horror Effect for a number of reasons. Firstly, I got tired of just reading all these great blogs and not being able to fully participate in the discussion. Secondly, and more importantly, I was feeling a little lonely as a horror fan. There were times in film school that I felt ostracized as a horror filmmaker, as professors and students seemed to discount the genre holistically as subpar cinema. Even outside of my academic world, I sometimes felt like I wasn't taken seriously because movies like Silent Night, Deadly Night and Killer Klowns from Outer Space sat on my shelf. People either didn't understand my enjoyment of "low-brow" entertainment or refused to appreciate or acknowledge the merit of more "acceptable" horror films. Blogging became a way for me to engage in meaningful conversations about the movies I loved with peers that understood my interests.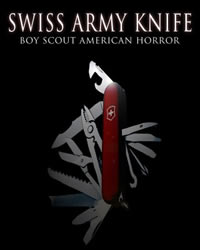 My blog is mainly comprised of reviews (reviews that I hope are considered thoughtful), but I also share filmmaking stories, my short films, some of my goofy artwork, and my adventures as a horror fan. One of my favorite features that readers really seem to enjoy is the CAPS review, which is a review comprised of screen captures and my captions. It's like a children's picture book with lots of puns and sarcastic remarks. Above all, I try to incorporate truly reflective views of the horror film, without forgetting to have a sense of humor about the genre.