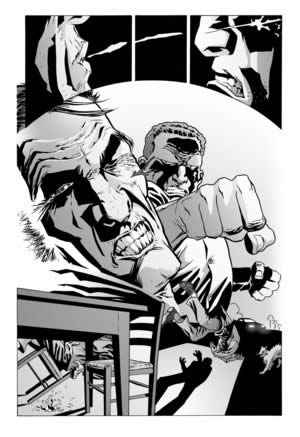 Zombos Says: Very Good
I worry a lot when reviewing a graphic novel. So many things to consider; you've got the artwork, you've got the writing, you've got everything between the art and the writing--and it all works up to either a good or a bad story. It's an encompassing beam bar balancing act and one little slip can send everything screwy. Then there's the personal bias; every critic has one, whether we admit it or not. Usually we leave it up to the reader to pick it out, like a fly in a bowl of chowder; it's there, but the devil to find it.
Jason Starr and Mick Bertilorenzi manage to balance The Chill without going screwy. Starr's got a nasty habit of using too many get-the-bar-of-soap-ready cuss words in his characters' dialog, but I admit I'm peevish with writers using fuck you this and fookin' that--with variations. It gets in the way of writing really good dialog when you're forced to dance around the expletives you'd naturally rope a dope with. But let me make this easy for you: there's my fly in the chowder.
Starr's story is gritty, sexy, and sopping with imaginative Druid magic references. Bertilorenzi's artwork makes it come alive. His panels barely contain it all and spill across the pages, keeping up the momentum of Starr's mystery that begins in County Clare, Ireland a ways back, and continues over the years, getting worse as she goes.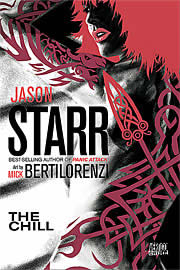 A lover escapes death and the lovee has something awaken inside her. It's called the chill. Not really good for her or her lovers, but her dad benefits most from it. As to why that is, you won't hear it from me; you need to read the story. But I can tell you Bertilorenzi's visual interpretation of Starr's terror--all the bad killings, the cuss-mouthed but obtuse detectives, the gritty city, and the nasty messing the sheets sex is rendered in black and white and shades of gray. He's got a good Mickey Spillane trashiness going with Starr's innocent and blemished people meeting their doom.
The only glamour in this story comes from Irish magic. Most everyone starts off looking good, but Starr must have some flies in his chowder, too, because even professors and priests wind up researching and preying more than they morally or legally should.
Review copy provided by DC Comics/Vertigo.