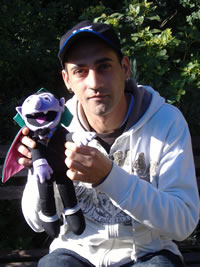 Many fans of horror, amateur and professional alike, have devoted themselves to blogging about the thrills, chills, and no-frills side of the genre as seen in cinema and print. In this ongoing series that highlights the writers behind the blogs, we meet the unique personalities and talents that make the online horror scene so engaging. Up close and personal.
In this installment, Mandra of Draculand illustrates his passion for horror.
Hello everyone, my name is Tony Espinosa (Mandra) and I´m illustrator from Barcelona, Spain.
My addiction to horror and my obsession with the myth of Count Dracula is when being small I read Bram Stoker's Dracula and my love was automatic. Then fell into my hands some Relatos Salvajes of the 70s, published in Spain by Vértice and best known in America for "Monsters of the Movies", where I enjoy among other things, a fantastic adaptation of The Invisible Man (Val Mayerik and Dan Adkins), and the adaptation of The Day of The Triffids, better known in Spain for La Semilla del Espacio.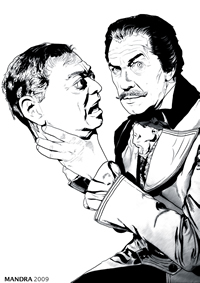 My passion grew after devouring the series Tomb of Dracula by Gene Colan and Marv Wolfman, who introduced me even more to myth and icon that is Dracula. Not least was for my characterization of Bela Lugosi in Dracula (1931), which gave the character strength, charisma and immortality. Lugosi put the body and face to the immortal count. He died and a myth was born.
You could say, I grew up among horror comics: Vampus, Creepy, Rufus, Dossier Negro, Vampirella, SOS, Scorpion ... etc, and between films of Jess Franco (The Castle of Fu Manchu, Count Dracula ...) and Paul Naschy´s Films (Mummy's Revenge, The Night of the Werewolf ...).
Then Hammer and Universal came into my life. There was nothing to do. My passion and my love for this genre would not measure.
More of Mandra's artwork: