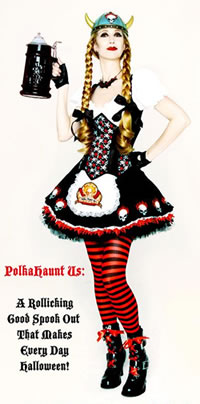 Okay, maybe it is just me, but every time I listen to a Polka Haunt Us song I am reminded of the Song of the New Wine scene in Frankenstein Meets the Wolf Man. Anyway, after listening to their pawky tunes (my favorite is Blank Face Goblins), I think you may find a surprise or two here, too. I always thought accordion music was creepy, but now its creepy in a good way.
"Check out the new video for Veronique's song "Vampire Surprise," off her eclectic, unique, laboriously produced Halloween album Polka Haunt Us: A Spook-tacular Compilation. Who says horror has to be so scary? Veronique is working (in her own weird way, of course) to give the Monster Mash a run for its money and bring new life into Halloween music as a genre! And her costume is pretty fabulous too!"

Listen to it at www.PolkaHaunt.us.

See the video for Vampire Surprise here: http://www.youtube.com/veroniquechevalier.