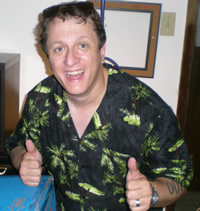 Many fans of horror, amateur and professional alike, have devoted themselves to blogging about the thrills, chills, and no-frills side of the genre as seen in cinema and print. In this ongoing series that highlights the writers behind the blogs, we meet the unique personalities and talents that make the online horror scene so engaging. Up close and personal.
In this installment, James Wallestein of the Spanish-language horror blog Dimension Fantastica tells us about his passion for a genre that knows no borders.
Hello, my name is James Wallestein and I live in Dallas, Texas. I write a horror cinema blog in Spanish. Maybe this sounds odd, but I always thought that someone needs to write in Spanish about fantastic cinema for a country with 40 million Spanish speakers!
Personally, I believe it a matter of my DNA to love horror and fantastic cinema. My dad taught me to read at four years old, and he is a fanatic for fantastic cinema and the comics. I grew up reading hundreds of comics (filling all the corners of our apartment) that my dad bought: The Fantastic Four; Conan; X-men; Flash Gordon; Superman; Batman; Spiderman, and more…I remember the great art of Jack Kirby with fascination.
At five years old my dad took me to see Jaws and it was a shock. I was terrified with this damn white shark. Later, in 1977, my dad took me to see Star Wars and Orca, the Killer Whale (pretty impressing for me was the scene of the abort with the baby whale). My dad has a big love for fantasy in his DNA, and therefore he transferred to me his passion into my genetic code.
In the 70's my mom really didn't like a lot the TV but she loved listening to the radio at night. I remember she and me listened to incredible late shows on the radio talking about the Loch Ness monster, UFOs, aliens, the face of Mars, the scam of the fake landing on the moon, ghosts, etc… really, these were magical and unforgettable nights of horror and mystery for me. In my childhood I believed we were living in a world full of monsters, mysteries, and unknown terrors.
My adolescence started with one micro-computer, the Commodore 64, and playing incredible games, and discovering the unlimited universe of the VHS. I secretly rented all the Lucio Fulci movies, Umberto Lenzi, Ruggero Deodato, Sergio Martino, and I discovered the Giallo. Films like The Bird With the Crystal Plumage, Inferno, and Suspiria shocked my soul and senses. The 70's and 80's were wonderful years in the fantastic and horror Italian cinema. In that time, like a rat I lied to my parents and I went to the cinema to see jewels like Poltergeist and Humanoids From the Deep. At 13, I saw those exciting fish men in action!!! It was a true discovery! Why my teacher never explained something as interesting like that in school I don't know.
As a teenager I discovered incredible books from Stephen King, Isaac Asimov, Richard Laymon (the novel The Cellar was a brutal shock with its disturbing end), etc… One book that I believe is one of the best in the genre is Aztec, from Gary Jennings, with shock scenes like one with the deformed monster of the zoo of freaks, or the scene of priests dancing with the bones. I read hundreds of sci fi books. I love the River World books and Jack Vance's saga Tschai: Planet of Adventure.
During that time I discovered fantastic comics magazines like Creepy, Vibora (one incredible and controversial Spanish comics magazine), Zona 84, Cimoc, Totem, and the awesome Metal Hurlant from France. The intelligent scripts of Alejandro Jodorowski or the art of Moebius, Milo Manara, Richard Corben or Alberto Breccia furnished my mind with fantasy and dark visions of other incredible worlds.
In those years I closed my eyes listening to music from The Cure, Sisters of Mercy, The Cult, Metallica, and all the synth-pop of the 80's like Alphaville, Wolfsheim, Men at Work, New Order, Simple Minds, Depeche Mode or Duran Duran; fantastic music that transported me to other worlds while I read all those comics and novels in long, magical nights that I remember with nostalgia.
I don't know if that was normal or not. Maybe I'm really a freak or a nerd, but I felt more fascination and interest in aliens, John Carpenter, vampires, sea monsters, Dario Argento, white sharks, the Roswell crash UFO or tentacles finding pretty girls in adult hentai movies than trying to act like an adult, party, and look around for women--or build a real social life. My existence was always spinning around my bedroom reading books, comics and watching thousands of movies or going to the cinema. I never felt alone: the fantasy and horror worlds always made me feel cool and happy!
After 25 years doing the same (I had enough time to get married with the most wonderful woman of this world, Angel) I arrived to a crossroad. In the year 2007 my passion and obsession with the horror and fantasy cinema was too big for me to contain just in my mind and soul, and I had the sensation that it was time to share my knowledge, memories, and cinema tastes--with all the world and the new generations--through the powerful and versatile worldwide tool the Internet. I began to build my blog Dimension Fantastica (Fantastic Dimension).
Basically, because hundreds or maybe thousands of real oldies and odd movies are forgotten and too many blogs and websites are really disasters, a lot of critics have a lack of common sense and vision about what they are talking about, or they ignore a long list of very cool and bizarre movies . That fact made me take my decision to begin my blog two years ago and build it for Spanish speaking readers, but also for people from all over the world. So my blog has a bilingual reference structure , Spanish and English, to make it easy to find all kinds of movies and enjoy all the juicy contents of my blog.
I always think my blog is like an encyclopedia about the horror and fantasy cinema, with many indexes and themed indexes with a lot of visual work. Right now it has 17,400 pics and 4,030 covers from more than 1,070 movies I review in the blog. Dimension Fantastica is something really fun to see and to read if you know Spanish (I have an English translator in the top right corner of my blog). But if you don't know Spanish or don't have interest in this language don't worry. My blog is still fun and has enough for you to explore with its visual indexes I designed. You will enjoy an endless amount of film pictures and movie covers. And all built in a blog!
Now, after two years working in my blog and with more than 1,300,000 visitors, Dimension Fantastica is a successful and the most read horror cinema blog by Spanish speakers, I feel that this is only the beginning of a long, wild and exciting adventure. I hope you enjoy my work. I really put my heart, love, and passion into it. Thanks!