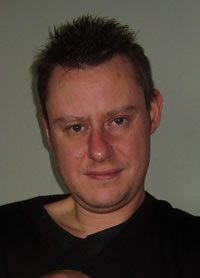 Many fans of horror, amateur and professional alike, have devoted themselves to blogging about the thrills, chills, and no-frills side of the genre as seen in cinema and print. In this ongoing series that highlights the writers behind the blogs, we meet the unique personalities and talents that make the online horror scene so engaging. Up close and personal.
In this installment, Robyn (aka The Great Tyrant and Diabolik72) of the Temple of the Matmos reveals there is no hot babe minding the temple. Damn.
If I had to pinpoint a moment where it 'all started' it would have to be Xmas 1984 (I think) when I was given Denis Gifford's Pictorial History of Horror Movies as a gift from my Uncle Steve. Pouring over it for the next few days, I decided that I absolutely had to see every goddamn movie in there. I saw An American Werewolf in London around the same time and from there got into the Universal and Hammer movies. The next big leap was discovering Fangoria, when my father brought me a copy home from a shop he'd been signing at (he was and still is a comic artist) and through this I discovered Romero, Argento, Fulci and the likes. I've been pretty much obsessed ever since.
One of my heroes is the late Forry Ackerman, and like him I'm a firm believer that writing about horror and sci-fi should be fun as well as informative. I've also always liked the idea of having a fun 'host' for this kind of thing. I think this partly comes from growing up reading the British sci-fi comic 2000ad, which had (and still has, I believe) 'The Mighty Tharg', an alien from the planet Betelgeuse, as its 'editor'. Of course, later I was introduced to the EC stuff with The Crypt Keeper and The Old Witch and the rest.
Much later, as an adult, when I edited and wrote for a short-lived photocopied horror movie fanzine, it was under the nom de plume of 'Robyn Graves'. The Temple of the Matmos is just a fanzine without the hassle and expenditure of printing and distribution really. It started off as bit of random 'stuff I like' blog I was doing to keep me sane when I was working as a high school teacher – as soon as I quit and got a job I was happier with, I started doing it in earnest and it was clear to me that the Euro horror route was the way to go. I've no plans to stop anytime soon.
It's quite liberating to write under the guise of 'the Tyrant', because I can be a bit haughty and imperious and nobody takes it too seriously, although I think there's more than a few out there that don't know the Barbarella character and click into my profile thinking I'm some hot babe! If it gets 'em reading, then…
The Temple of the Matmos