What a difference a decade or two makes. In this remake and retinkering of The House on Sorority Row (1983), the overheated and nubile Theta Pi girls are non-stop partying like it's 2009; and the usually horribly-deformed-and-mentally-somewhere-beyond-Saturn stalking killer is easily a People or US magazine cover candidate. Stewart Hendler'sSorority Row is overly-sexed, overly slick and glossy, and murderously fun.
All the elements for successful slashing are here: a prank gone horribly wrong; a deep dark secret to be kept; a mysterious killer who, months later, knows the deep dark secret that apparently has not been kept very secretive. And then people start dying in creative, bloody ways with a signature weapon--in this case a pimped out lug wrench. What is different is Hendler's playfulness with an audience's expectations for the murderous mayhem, and the sincere acting from a cast that is not just eye-candy, which balances this cat and mouse game between tongue in cheek and serious terror. Carrie Fisher as the shotgun toting house mother, Mrs. Crenshaw, puts up a classy mean fight, bringing legitimacy and sophistication to the action.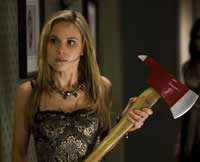 Bacchanalian partying, hot tub simmering, and excessive drinking round out the sorority girls' studies. Bossed by Jessica (Leah Pipes, when the prank they play on Megan's (Audrina Patridge) cheating boyfriend, Garrett (Matt O'Leary) results in death, they hide the body down an old mine shaft. Arguments for going to the police and for not going to the police are heatedly exchanged, leaving the sisters in disagreement and the body still hidden; until eight months later, at graduation time, when their ringing cell phones tease them with a picture of the lug wrench. Does someone else know or is it Garrett succumbing to remorse?
Ellie (Rumer Willis), the bookish one--she wears glasses--starts to crack under the strain, while Claire (Jamie Chung) gets hot and not so bothered with her boyfriend in the hot tub. Meanwhile, the keep-it-warm-between-my-legs Chugs, (Margo Harshman) goes in search of prescription-strength fun only her shrink can provide, but finds a nasty mouthful instead. Chugs is my favorite. I was sorry to see her go so soon. The death by bottle is not pretty or humorous and so smoothly executed it kicks off the slashing with promise. Hendler draws more suspense out of the subsequent killings, dwelling over each dispatch with a fine eye to gruesome--but not gory--detail. I do not want to spoil the hot tub and bubbles everywhere walk and stalk for you, but I will leave you to imagine how a misused flare gun can brightly light up the bubbles and a sister at the same time. Another moment to savor is when Claire's hot to trot boyfriend Mickey (Maxx Hennard) has a fatal bottoms-up interlude with a dumbwaiter.
Who the killer turns out to be is not much of a brain-twister: Hendler telegraphs the identity throughout by emphasizing a certain handy feature available on most cell phones these days. But the fun is getting to that point, even with the preposterous time it takes for the fire engines to finally show up and the somewhat jittery camera eye.