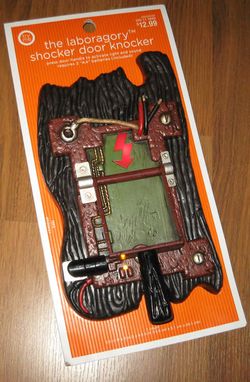 Target has begun to stock Halloween gruesomeness onto their store shelves. I fell in love with this Laboratory Shocker Door Knocker immediately. It's shockingly detailed--nice touch with the dangling electrical wires--and fun to use. Just press down on the handle and it lights up.
Oh, and blood-curdling screams will be heard in-between jolts of zizzing electricity, adding to the merriment. A must for haunted attraction fans.
You can find it online at the Target.com website as well as the store. Click the image to see it close up. Just don't drool.