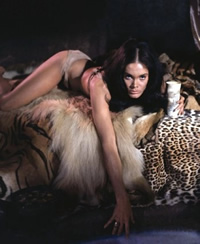 Zombos Says: Very Good
I am reminded of the line Frederick Frankenstein utters in Young Frankenstein after seeing the huge door knockers on the even bigger doors of the ancestral castle: "What knockers!" The comely Inga, poised in his arms as he helps her out of the hay wagon, thinks he is referring to her ample bosom and responds, "Oh, thank you doctor!" The female stars profiled in Hammer Glamour: Classic Images From the Archive of Hammer Films also have ample bosoms; but more than that, they defined Hammer's sensual, supernatural horror mystique, an artistic and commercial blend of Gothic and gore done on a budget, which embellished male stars Christopher Lee and Peter Cushing's good versus evil action.  I do not believe Lee or Cushing ever had to do bikini-clad pin-up sessions, though, or look alluringly into the camera while posing on a bed of furs.
The book highlights fifty Hammer female stars, including the sultry, self-assured, Martine Beswicke (my favorite), statuesque Ursula Andress, and the sultry and statuesque Raquel Welch. Clad in her doeskin bikini, Welch, helped make One Million Years B.C. the "most commercially successful film in Hammer history, and sealed the company's new reputation for 'discovering' glamorous stars."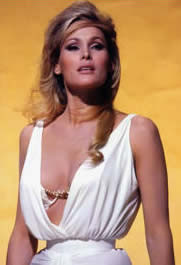 In an appendix entitled Also Starring, Hearn includes dozens more who starred in Hammer movies but did not achieve much notoriety beyond that. Faces you will recognize include The Devil Rides Out Nike Arrighi (my favorite) and Twins of Evil's Isobel Black. While Hammer horror buffs are more familiar with actresses like Ingrid Pitt (The Vampire Lovers), Valerie Gaunt (Dracula), and Susan Denberg (Frankenstein Created Women) , it may come as a surprise that Stefanie Powers ('Jane Brown's Body'), Judy Geeson (Fear in the Night), and Nastassja Kinski (To the Devil a Daughter) also appeared in the studio's numerous offerings.
In-between the cheesecake photographs, Hearn does a succinct  job of running through the movies each actress appears in while providing background on their careers' trials, tribulations, and triumphs, and, where applicable, their current activities. His style is very British informal and filled with idioms that make reading very enjoyable--but keep a reference source handy, you may need to look up a few definitions. While writing about those naughty Twins of Evil, Mary and Madeleine Collinson (my favorites), he writes "It wasn't long before they were noticed. In the King's Road, Chelsea, two teenage boys came a cropper when they were distracted by the girls." I looked up came a cropper: it means to take a tumble. By the way, Mary and Madeleine get the naughtiest full-page in the book.
More important for the ardent movie buff are the anecdotes and snippets of interviews that Hearn includes. Not all was glamourous for Hazel Court, Hammer's first pin-up girl (The Curse of Frankenstein), as Hearn recounts the time a reporter visited her on the set of The Man Who Could Cheat Death, or for Susan Denberg (my favorite), whose career spiraled downhill after drugs and dissolution took their toll. It is this mixing of glamour with the realities of show biz, and Hearn's earnest, engaging style--and, okay, yes, the photographs--that make Hammer Glamour more than just skin deep reading.
Come to think of it, all the women of Hammer Horror are my favorites.