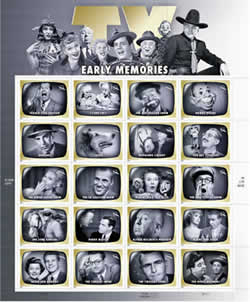 The Twilight Zone and Alfred Hitchcock Presents, appear on one of 20 first-class stamps released by the U.S. Post Office, featuring 1950's hit television shows. The stamps include images of Dragnet, The Ed Sullivan Show, The Honeymooners, I Love Lucy, Lassie, The Lone Ranger, Ozzie and Harriet, Howdy Doody, and Perry Mason.

(Don't miss the Edgar Allan Poe 200th birthday commemorative stamp either.)

Here's the press info on the classic TV series:
One of America's most revered canines was among 20 television icons that came out of retirement today to be honored on the U.S. Postal Service's Early TV Memories 44-cent commemorative First-Class stamp sheet. Lassie participated in the first-day-of-issue dedication ceremony that took place at the Academy of Television Arts and Sciences in North Hollywood.
Available nationwide today, all 50 million stamps, available in sheets of 20, commemorate Adventures of Ozzie & Harriet; Alfred Hitchcock Presents; The Dinah Shore Show; Dragnet; The Ed Sullivan Show; The George Burns & Gracie Allen Show; Hopalong Cassidy; The Honeymooners; Howdy Doody; I Love Lucy; Kukla, Fran and Ollie; Lassie; The Lone Ranger; Perry Mason; The Phil Silvers Show; The Red Skelton Show; Texaco Star Theater; The Tonight Show; The Twilight Zone; and, You Bet Your Life.
"All of the classic television shows represented on these stamps represents the collective memory of a generation well deserving of entertainment," said U.S. Postal Service Board of Governor member James C. Miller III in dedicating the stamps. "It was a generation that survived the Great Depression and fought World War II. They were pioneers — creative geniuses — who brought television shows of the 1950's into our homes, breaking new ground to provide entertainment for everyone."
Joining Miller in dedicating the stamps were Steve Allen's wife, Jayne Meadows Allen; actor, director and comedian Carl Reiner, who emceed the event; and Academy of Television Arts and Sciences Chairman John Shaffner.
Art director Carl Herrman of North Las Vegas, NV, designed the stamps and worked with twenty2product, a San Francisco-based studio, to give the archival photos used in the stamp art a suitably "retro" look.