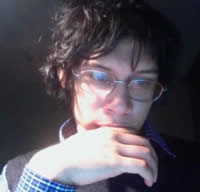 Many fans of horror, amateur and professional alike, have devoted themselves to blogging about the thrills, chills, and no-frills side of the genre as seen in cinema and print. In this ongoing series that highlights the writers behind the blogs, we meet the unique personalities and talents that make the online horror scene so engaging. Up close and personal.
In this installment, Richard Peter from Paradise of Horror invites us to become castaways on his ideal isle where horror fans can get their geek on.
I have always been a huge fan of horror ever since me and my grandmother would watch Tales from the Crypt back when she got HBO for free. It was always my favorite show, but my parents would make me watch Goosebumps since it was a bit more toned down. Though, Goosebumps wasn't scaring me the way I wanted it to, so I picked up two movies that would forever haunt me, and provided me a gateway into horror: The Thing and The Blob (1988).
With those movies burned into my skull and frightening me to no end, I had to turn it down and switch from Goosebumps to the sci-fi/horror show The X-Files. After that show I finally started watching good horror movies and it's been history ever since.
I turned into a regular horror movie guru and now I want to be a filmmaker and movie editor.
I am relatively new to the whole blogosphere and I started Paradise of Horror as just a general one, but since then it has transformed into a strictly horror-oriented blog. I have, occasionally, joined a few forums and websites but because of my cocky attitude, and biased view on remake movies, I have been banned from all 4 of them; rather than mess around with forums I started my own blog to discuss horror movies.
While it is dedicated to horror movie reviews, I have also posted some horror news updates; but when I realized that every other blog or website does the same thing--my style would be old hat. So, I would find some horror movie news and add my own commentary on it, and also post reviews of horror movies. I also include how horror has changed my life, my initial response to already reviewed horror movies, and links to other great sites that have helped me out, or that have contributed to my work.
The idea for Paradise of Horror was actually just a thing I created as a working title. I have always been into the Parrothead culture of Jimmy Buffett so naturally I am obsessed with tropical climates, palm trees, beaches--and just the idea of being in a tropical paradise. I decided to create this 'world' for horror fans; a tropical paradise where horror fans can get together and talk about horror. It's like an alternate universe of sorts but that was the idea that I was playing off of. To me, an ideal paradise would be a paradise of horror where I wouldn't be ashamed to geek out over horror films.
Hopefully, my blog will eventually get more hits because I am eager to share my views on horror from a teenage perspective. I don't do your typical top 10 movies you must see or provide information about upcoming horror movies because there are several places you can go for that. My style is commentary--my view on things, and I think that makes my blog unique. Hopefully, horror fans will enjoy it.