"The night that all the film crew will remember is when we shot a scene with a vampire who had clambered up a lamppost after devouring a messy meal (another dog). This shot involved a large crane and the actor, who was wearing a thin layer of clothing, was strapped to the lamppost.

"At the time, the temperature was a relatively mild 10-12 degrees below zero, but during the shoot, rain came down from the heavens. I have never witnessed anything like it, and I have no idea how rain can fall when it is way below 12 degrees centigrade. The effect of the rain is that when it lands on anything--particularly metal--it freezes instantly, covering everything with ice. One of the crew very aptly described the rain as napalm, but its effects are the other way round. Within seconds, the camera, crane and crew were covered in ice.

"The poor actor, who was strapped to the lamppost, covered head-to-toe in fake blood, froze in thirty seconds. And that was his first day of shooting and introduction to Frostbite. We actually had to pry off the camera assistant who was stuck to the crane--he was stuck fast to his seat. I think it will be some time before we do another film in the snow" (from the interview with director Anders Banke conducted by Jay Slater, in The Dark Side, Issue 125, 2007).
Zombos Says: Very Good
Once I got past the incongruity of the wise-cracking dogs, I realized Frostbiten, directed by Anders Banke, is meant to be fangs-in-cheek fun, just shown seriously. If you can imagine Fright Night with more blood and bite to it you will know what I mean. This unorthodox blending of opposites makes Frostbiten an off-kilter visual experience: dogs chat it up with Sebastian as he slowly becomes a vampire thirsting for blood; an incredulous police officer is heavily, and comically, outfitted in riot gear before he interrogates Sebastian, now a full-blown vampire; teenagers party it up with helium-inhaled voices one minute, then climb all over the house--really climb--as vampires the next, thanks to Sebastian's stash of stolen red pills. Sebastian (Jonas Karlstrom) is the medical intern who swallows one of the pills when he should have known better than to swallow one of those pills.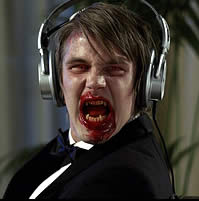 Frostbiten is filled with unusual touches that go beyond talking dogs, lending this first Swedish venture into the vampire genre an offbeat quality--lying somewhere between The Fearless Vampire Killers and 30 Days of Night--making it hard to explain but easy to describe.
It begins in 1944 with a skirmish in the Ukraine. Soldiers fleeing to safety come across a snowbound cabin, find no one in it, although the stove is hot, and assume whoever lived there fled when they saw the soldiers. Unable to sleep, they start to wonder how the people in the cabin could leave it since it was snowbound. The answer, of course, is they did not leave, which leads us to the present day. All of this happens before the title credits role, including a surprising visual flourish that sweeps our view from inside the cabin, quickly through its small window, and up to the winter moon; and to present day Northern Sweden, where dawn is a month away.
Annika (Petra Nielsen) and her quiet daughter, Saga (Grete Havneskold), move to a small town so Annika can work at a hospital where renowned geneticist Gerhard Beckert is conducting research. At school, Vega (Emma Aberg--exuding a sultry, classic Hammer glamour, appeal) takes a fancy to the more reserved, but cute, Saga and invites her to an upcoming party.
Vega is the wildest one in the school clique and insists Sebastian bring suitable drugs from the hospital to liven up the upcoming party. What Sebastion eventually finds are the red pills Beckert has devised as a sort of vampire vaccine. With Vega's help, the pills eventually make it to the party, and into the punch bowl. The action now moves in-between teenagers at the party getting a blood rush, Sebastian slowly turning into a vampire after swallowing one of the pills, and Annika discovering Beckert's secret.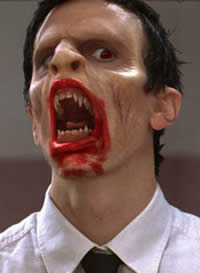 Sebastian's awkward situation--he is meeting his girlfriend's religious parents for the first time over dinner at their apartment--is the funniest: crucifixes adorn the walls making Sebastian uncomfortable; when he shakes her father's hand his hand starts smoking; the main course for dinner includes sea trout braised in garlic; and when he succumbs to his blood lust by draining their little pet bunny dry, their pet dog thanks him for getting rid of the attention-getting hippity-hopper. His thirst for more blood lands him in police custody after killing a dog. Seen at the top of a lamppost, he is apologetic to the dog's owner, who stares at him in disbelief.
Back at the party, Saga is locked in the bathroom, helping a teenager going through the vampire metamorphosis, when the punch bowl is empty and the pills have taken full effect. Suddenly plunged in darkness, the teenager's glowing red eyes are the only thing to be seen. When the light comes back on, the teenager is on the ceiling and looking for more punch. There is blood everywhere as Saga makes her way through the carnage. Vega, now a real vamp, goes after her, leading to a serious, but comical, denouement with a garden gnome. As the police arrive, and call for "so much f**king backup," they have their hands full as one vampire quips to them "Don't worry. It'll soon be over. Dawn is just a month away."
The vampires in Frostbiten hop around in high jumps, have vampire-vision--a reddish, squiggly haze--along with glowing red eyes, super hearing (there are humorous subtitles as Sebastian listens to his neighbors), and their faces morph into snarling, devilish creatures as their teeth stretch longer when the need for blood takes hold.
Frostbiten captures a cheekiness for nocturnal sanguine horror that you do not often see nowadays. It delights in mixing its bloody discharges with edgy wit and humor, and showing it through a veneer of seriousness. All of this brings a fresh approach to an old genre.