The Zombie (Simon William Garth) is a fictional supernatural character in the Marvel Comics Universe, who starred in the black-and-white horror-comic magazine series Tales of the Zombie (1973-1975), in stories mostly by Steve Gerber and Pablo Marcus. The character had originated 20 years earlier in the standalone story "Zombie" by Stan Lee and Bill Everett, published in the horror-anthology comic book Menace #5 (July 1953)  (from Marvel forerunner Atlas Comics. -- Wikipedia)
The Zombie: Simon Garth, four issue series published under Marvel's MAX brand: Kyle Hotz, author and artist; Eric Powell, dialog assists; Dan Brown, colors; Warren Simons, editor. 
Issue One: Wrecks
Yes, it was a good thing they got him to the emergency room right away...No, I didn't know a cue ball could fit up there either.
The action begins immediately. One army chopper down in the woods and a car wreck on a quiet road send people on a collision course with mayhem. Cherry, a survivor of the car wreck, wakes up in the opening panels, calling for Liz. Cherry runs into the woods nearby looking for Liz, but finds two backwoods oafs with ill intent on their minds. She puts up a fight, but they knock her unconscious. Simon Garth enters the scene in a beautifully "lit" quarter-panel-plus that highlights his zombie-ness--rather majestically--as the plaid-dressed duo of Dumb and Dumber, obscured in shadow, are startled by his entrance. He tosses them around, picks up Cherry, and continues on his wandering way.
Cut to the crashed army chopper, one nonplussed scientist (we know he's a scientist because he's wearing his white lab coat) complaining on his cell phone that he's lost someone--namely Simon Garth, the carrier for the super secret zombie virus that everyone is now going to know about--and, oh look, one of the dead crash victims found the important blood sample-filled syringe sticking in his neck. No sooner than you can say "It's Zombie Time!" reanimated dead people start popping up. Both art and story work very well together, but army-sponsored zombie viruses, scientists who wear their white lab coats all the time on secret missions outside the lab, and mega-dangerous blood samples stored haphazardly in sharp syringes is simplistic scripting, abeit Hotz could be parodying the usual cinematic horror approach here. Whichever it may be, the flow of action moving around Simon Garth, as it escalates through dire events, is breezily paced. Enhanced by the black-inked lines and coloring highlights reflecting the emotions in the faces of the people he (and we) meet in this first issue, the story keeps you interested and in expectation for what happens next.
Sheriff Matt Haupt, sent to investigate the car wreck, finds the crashed helicopter. He doesn't know what he's stepped into, but he senses it's going to be messy. I bet Cherry will be surprised when she wakes up in the arms of Simon Garth.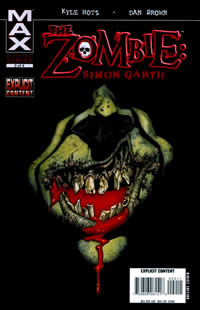 Issue Two: Magnetic Springs, USA
Please Baby, I'm just so hungry.
Gus, Honey, you...you're scaring me...
So hungry, Baby...
Cherry wakes up, a zombie bite victim puts a bigger bite on his wife, more mystery surrounding the car wreck, and the Texas Chainsaw kin try to put the bite on one darn unlucky scientist. The first issue's action is prefaced and embellished (we learn that Garth is the lone "survivor" of a zombie massacre in his home town) on page one. Those same malevolent events that wiped out Garth's neighbors start repeating themselves in the small town of Magnetic Springs in the ensuing pages of issue two.
Sheriff Haupt locates the car wreck and one shook up Richard Ellis, another survivor of the accident, who is anxious to find both Cherry and Elizabeth, his daughter. The sheriff finds what caused the crash when he sees a road spike strip buried deep into one tire. What's that you say? Why yes! If you are thinking Wrong Turn and cannibalistic mountain men, grossly disfigured through generations of in-breeding, and up to no good in these woods--bloody good for you! And for the story, as it suddenly crosses genre lines to mix people-eating zombie mayhem with backwoods people-eating misbegotten morons. Let the fun begin.
Wasting no time, the story cuts to Cherry, who eventually wakes up and quickly high-tails it when she realizes she's been talking to a walking cadaver, then over to our darn unlucky scientist tied to a table in the smokehouse of the damned and frantically trying to keep from becoming a rump roast as Dumb and Dumber ring the family dinner bell; and finally to young Elizabeth, who hooks up with Simon Garth and asks "Did a wicked witch do that to your face?" in a nod to the original supernatural overtone to the Simon Garth saga.
Kyle Hotz keeps building tension with his story and art, Eric Powell keeps the dialog sensible and simple, and Dan Brown's colors keep panels dark but not murky, holding the mood across scenes. The flow of the panels, details and colors in each, and the headshots for friend, foe, and decaying dead, maintain a Bernie Wrightson-like style of ghastly humor that works well with the events happening in quick succession to everyone in Magnetic Springs. Skillful use of panel sizes, including tall/narrow and half/splash page, and varied point of view angles within panels, leave you wanting more to feast your eyes on.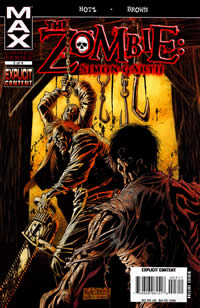 Issue Three: Blood Point
Sir -- everything is still under control.
Needless to say--this is a zombie story after all--everything spirals out of control. The military is concerned with finding their "cargo" Simon Garth; people in the small town of Magnetic Springs are concerned with staying alive; and Cherry and Richard are concerned with finding Elizabeth. You will just have to read the story to find out what concerns, if any, our darn unlucky scientist, Dr. Barnes, may have. Wonderful scenes of humorous zombie munching in the background, as breathing characters either suddenly realize the gravity of the situation or desperately seek help because of it, keep it all lively. Cherry comes across the inept "cannibalistic mountain men, grossly disfigured through generations of in-breeding" and their big mama, and finally hooks up with Sheriff Haupt. Stoic Simon Garth stays mostly in the background for this issue as everyone shakes it up inside and outside of town.
Devoting most of issue three's story and art to the usual zombie antics--gut-munching, shoot-them-in-the head, gut-munching, damn-I-missed, gut-munching, oh-crap-they-keep-coming, more gut-munching--Hotz still manages to rise above the usual clichés by keeping humor and desperation in balance. At this point you realize that his characters, while not quite fully-fleshed out (is that a pun?), keep your eyes glued to the panels to see what happens next.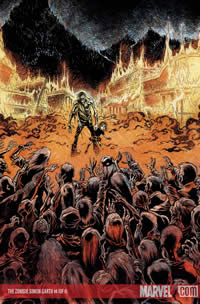 Issue Four: Magnetic Springs, The Finale
I'm not going to be biting anyone, if that's what you mean, Sheriff.
The highlight of issue four is seeing Simon Garth tear it up with zombies and bad guys as everyone--living and dead--is drawn to the town of Magnetic Springs like a magnet (definitely a pun). Against the backdrop of the zombie outbreak, Richard becomes a danger to the others, and Sheriff Haupt is powerless to stop him. Simon Garth strolls into town with Elizabeth and starts bashing heads while the military begins preparations for cleaning up the mess they caused in a big way.
Missing from the credits in this issue (and issue three) is Eric Powell's dialog assists, but you won't notice their absence. While the dialog is typical for the characters and the situation, it works well enough. Hotz brings his story to a suitable and satisfying climax, and what goes around comes around for Richard. As in the previous issues, the artwork, coloration, and panel layouts work together to keep visual interest strong and storyline clarity flowing.