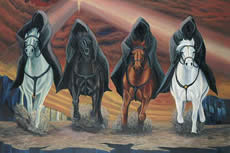 Nice to see the apocalypse has been rescheduled. Like one of those near endless Friday the 13th sequels, you just can't keep a good hoax down. But now the date is 2012, so I hope you can wait. I know the suspense is simply killing me.
Fueled by a crop of books, Web sites with countdown clocks, and claims about ancient timekeepers, interest is growing in what some see as the dawn of a new era, and others as an expiration date for Earth: December 21, 2012.
Read all about it before it's too late: Apocalypse in 2012? Date Spawns Theories, Films...