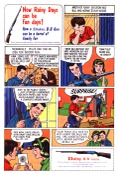 Every boy when I was growing up wanted a Daisy BB Gun, and every mother I knew worried about us boys shooting our eyes out with it, as so well depicted in the classic film, A Christmas Story.
The ad appeared in the back of comic books. Don't you just love those wonderfully unsafe but fun toys they used to sell! Now everything is so damn prim and proper. You'd think we were a bunch of idiots the way we need to be protected from ourselves. I miss the good old fun days of non-litigation and living dangerously.
Click on the image to enlarge it.