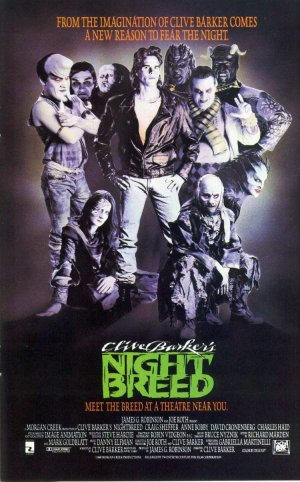 Zombos Says: Fair
"What the hell was that all about?" said Zombos. The man has been quite brusque since his recent birthday, but he did have a point.
"Offhand," I replied, "I would say it's about monsters, both human and otherwise, alienation, and uneven direction that stymied the translation from literary source to the screen. And to think he did such a wonderful job on Hellraiser. Tsk, tsk."
We had just finished watching Nightbreed, Clive Barker's ambitious but confusing directorial and scripting approach to his novella Cabal. Having not read the story I cannot speak for the pacing and clarity of the source material, but I can point to the cinematic folderol in his twist on the premise that good humans always fight evil monsters.
Nightbreed opens with an MTV music video-styled dream sequence involving very fashion-conscious monsters, cavorting around in a dark, misty landscape as if choreographed by Paula Abdul. Aaron Boone seems to be having a lot of these crazy monster-dance dreams, while the biblical word Midian haunts his waking hours, too.
He looks very clean-cut for a person with mental problems, and sports a cool leather jacket straight out of Grease, along with a nice pompadour to complete the look. He is seeing a psychiatrist, played by David Cronenberg—so you immediately know who the real psychopath of the story is. As the psycho shrink Dr.Decker, he has been slaughtering families left and right even before the film begins.
The one scene that had us sit up and take notice early in the film is his first appearance as the oddly masked killer. Picture your worst fear as a child. Was it the bogeyman? Perhaps he was hiding in the closet, or behind the door, or under the bed? Or was it the fear of losing your parents, and being left unprotected and helpless against the bogeyman?
In the film's only truly frightening scene, a little boy stands alone at the top of the stairs, and tells his mom he "heard a bad man." His mom tells him it was nothing and not to worry, and she promptly gets slashed to death by that bad man as the boy watches helplessly. The boy then watches the bad man go into the living room, where his dad's throat is quickly opened from ear to ear. The bad man returns, looks up at him, and slowly, quietly, walks up the stairs toward him, the knife glinting in his hand. Now cut back to the boy, slowly backing up helplessly against the wall. End scene. The implication is clear, the visual impact strong.
It is a brilliant scene, simple in execution, horrific in effect. Being a father, Zombos couldn't watch it. Unfortunately, the remaining scenes quickly lose that horrific tone, something Barker did not fail to do when directing Hellraiser. In that seminal film, the horror never ends; it keeps building without humor, without remorse. But not here. When Top Ten Horror Scene lists are tossed around, this scene is never mentioned: it should be, but it may go unnoticed because it is lost among all the other stylish scenes that lack coherence.
Dr. Decker first tries to convince Boone that he, Boone, is the killer that's going around murdering families. When that fails the psychiatrist convinces the police that Boone is the killer. Yet there is no explanation as to why Dr. Decker is butchering people, no backstory, and when he finds out about the monsters living in the ancient and really big cemetery called Midian, he also wants to kill them—just like that. He expresses no surprise that monsters are hanging out in the local ancient cemetery.
Perhaps he has a conformity fetish. Or perhaps the main pieces of this puzzle, including the relationship dynamics between Boone and Decker, were left on the cutting room floor. The Wikipedia entry on Nightbreed states: To this day, Barker expresses a disappointment with the final cut and longs for the recovery of the reels so it might be freshly edited. It was intended as "the Star Wars of monster movies", with over two hundred monsters created by Image Animation.
I'm not sure what "the Star Wars of monster movies" actually means.
Once the monsters of Midian enter the picture, everyone is rather nonchalant about it, and either wants to get to know them better or kill them. This is where the film takes a sharp left turn, goes racing past that STOP sign up ahead, and stalls in a ditch. When Boone is killed by the police and comes back to life, everyone, from Dr. Decker, the police, and even his girlfriend, is okay with the notion there are monsters here, even when Boone becomes a walking once-dead man without a heartbeat.
The cosmic consequences don't sink in to anyone in the film. Barker makes no allowance for pacing in a little necessary awe, disbelief, and "oh my god!!!"
Perhaps that's in the missing reels?
It also seems everyone knows about Midian except for boy-I've-got-a-headache Boone. He finally finds out where it is from another headcase he meets in the hospital, who frantically rips the skin off his face in hopes that will make him more acceptable to the monsters of Midian.
Right.
Barker does seem to have a fetish about skin in his films regarding keeping it on and in one piece most of the time.
When Boone visits Midian he runs into the monsters, who reject him at first. The evil psychiatrist tells the police they can find Boone in Midian, and he makes sure Boone gets gunned down by the police as he leaves the cemetery. When Boone comes back to life, the psychiatrist becomes quite upset and tells the police that Boone is not—dead.
So what's the deal here? The story is moving pell-mell, and badly needed exposition on whys and wherefores is not given.
Hello! Haven't read the novella! Need help here.
Even Boone's girlfriend, Lori, inexplicably heads to Midian searching for him, even though he shouldn't possibly be ambulatory, what with a few dozen bullets in him and being dead already.
Finding the place EASILY, she soon comes across a creepy dog-like creature caught in the damaging rays of the sun. She rescues it at the behest of one of Midian's inhabitants, who pleads with her from the doorway of a tomb. I don't know about you, but when dark hooded figures plead to me from open tomb doors, asking me to pick up a creepy dog-like creature—well, I'd be flying through the air in the opposite direction at that point. But Lori saves the creature, finds out it was actually a shape-shifting child, and suddenly wants to learn all about the monstrous inhabitants of Midian.
Just like that. No cosmic consequences, confusion, or fear on her part; just pass the tea and crumpets and let's hear all about it, deary.
We soon find out the monsters are the last descendants of shape-shifters, which have been hunted by humankind because they are DIFFERENT! and years ago found shelter living under Midian. Lori is fine with all this, and just wants to find Boone.
For the descendants of shape-shifters, it is odd that most of the monsters appear to be stuck in some really bad shapes. The menagerie of monsters that Lori comes across in her search for Boone is done mostly for shock value, and has little story-sense. The makeup art direction here is again reminiscent of an MTV music video, and the piece de resistance are the Berserkers, who reminded me very much of the man-in-suit beasties from Dark Crystal. They are penned up in a cell, vicious, and serve no purpose until the end, when they are released to attack the invading humans.
Lori eventually finds Boone who, it turns out, is supposed to be the Cabal, the legendary savior of the monsters of Midian.
I missed the lead up to that one; oh wait, there wasn't any.
But they didn't need saving until he showed up, bringing along kill-all-the-monsters humanity with him.
The police finally realize Boone is indeed dead but still walking, and, yes, there are monsters living in Midian. They quickly get pissed off there are monsters living together like normal people and gather up the usual assortment of redneck towns-folk, who don't have nine to five jobs apparently, along with a drunken priest who was in the cell next to Boone, and head to Midian to kick some monster butt.
Why suddenly introduce a drunken, world-weary priest? He plays an important part in later events. A little backstory lead up would have been useful here.
The cigar-chomping sheriff and his redneck entourage soon get their butts kicked (in a badly choreographed game of slow motion touch-football, low budget action way) by the Berserkers, set free to protect Midian—although I thought Boone was supposed to do that, him being the Cabal and all—but Midian gets blown sky high anyway, and the monsters are out of a home.
Boone does get to kill Dr. Decker, but the loopy "I saw their god and he burned me. I want to burn him back" priest, who now looks like a monster himself, brings the psychopath back to life and calls him master. Both whoop it up a great deal in a sequelization-antic ending that is obtuse as the rest of the film.
Did I mention that the score is by Danny Elfman?
That's a plus.
My recommendation for preparing to watch this movie is to read the novella first. Perhaps that will fill in the cinematic gaps that you could drive a Ford Expedition through and make the film a more enjoyable viewing experience for you.
It certainly wasn't one for me.