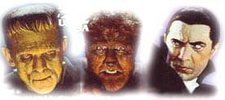 You'ld never know it is the 75th Anniversary of the Dracula and Frankenstein films with how Universal Studios is "promoting" this milestone, but at the San Diego Comic Con, they remembered and celebrated with Forry and a panel of fans. Go to Jennifer M. Contino's detailed post to relive the excitement. Wish I had attended it myself.
And another thing...
I wonder why Universal Studios has not capitalized on their wealth of classic horror monsters in their theme park.
When will Universal Studios wake up and smell the freshly turned earth? Being home to a bunch of classically scary icons like Dracula, Frankenstein's Monster, the Wolfman and the Creature, you would think they should have come up with haunted house and scarefest attractions by now that would make an awesome bunch of monster house rides.
Hell, imagine a Creature from the Black Lagoon attraction similar to Disney's Jungle Cruise, or walking through the streets of an old Transylvanian village, ala Disney's Fantasy Land. Every so often you could have actors running through the streets with flaming torches (or safer reasonable facsimiles) chasing after Frankenstein's Monster.
Imagine a ride built around the movie Them!, where you fight giant ants, or a frightening tour of Dracula's castle (Todd Browning version, of course). I love the Mummy ride, but there are more monsters, you know. Perhaps, with the new Creature and Wolfman remakes on the way, more classic monster attractions will become a reality.
Then again, they did do Van Helsing…