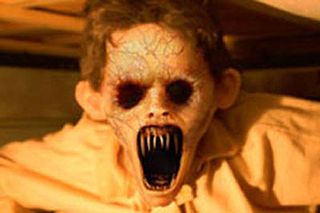 Sure, you know all the usual horror movies we watch and recommend for Halloween viewing. But what about those other movies? You know, the ones a little harder to come by, not often mentioned, and spoken about in words that end with a self-deprecating laugh.
Well, I will not apologize any more. These movies are creepy fun for a Halloween night, after you have eaten your twelfth candy bar and littered the floor with candy corn as you rummage deep into your trick or treat bag looking for the dark creamy stuff instead.
 Make sure to watch them with others, though. It is no fun laughing in the dark, all alone, on Halloween night. You never know who is listening.
If you are looking for the perfect second-half of a double bill Halloween show with Plan 9 From Outer Space, look no further. Spookies is a film to be savored for its underdone acting, overbearing dialog, and incoherent story. So rarely do horror films reach the pinnacle of hilarious "what the f*ck" ineptitude this film achieves so easily.
It starts off innocently enough. The Hi-Lite delivery service delivers an unmarked crate to an unsuspecting writer. We know he is a writer because he is sleeping the day away, surly, and says he does not even watch television. He must be a blogger, too. Over his protests they leave the crate in his living room. He manages to pry the crate open and plug in the battered, rotary channel dial, black and white television set. He checks to see if it works, but only one show comes in clearly no matter which channel he turns to. The show is Zombie Blood Nightmare and not much happens in it except for zombies continuously staggering around in the woods.