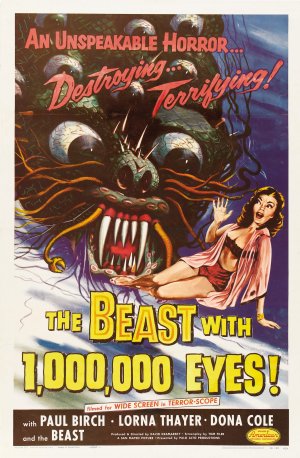 One interestingly unique little film from the 1950s that I've always had an affection for is The Beast with a Million Eyes (1955). The original ad art featured a never-never creature with a body containing an endless array of eyes that disappeared off the edge of the poster. It was hyped as "filmed for Wide Screen in Terror-Scope." Since this film was promoted and sold before it was ever filmed, one can assume the 'Wide Screen and Terror-Scope' elements were there from the beginning. This same line appeared in the later printed lobby cards, which consisted of stills from the finished production. All showings that I've seen have been in the normal 1:66 to 1 format. The IMdB lists the 'official' format as 1:37 to 1, not really a 'wide screen' and surely not anything that could be recognized as being in any sort of 'terror-scope.' On the other hand I haven't heard of anyone expressing disappointment over not being thrilled by something that was not in any sort of 'terror-scope.'
If this little opus occupies any place in film history it would be for one main fact; it contains the very first Paul Blaisdell cinematic creature.
The premier issue of Fantastic Monsters of the Films (1962) features an article documenting the creation of this creature; 'Little Hercules.' The copy of the article emphasizes " ...we (the monster makers) do not always work on Million Dollar Movies, and we do not take home Million Dollar Paychecks. Often we have to work within limited funds in a budgeted amount of time." Not mentioned is the actual amount of money Blaisdell did in fact recieve for his work: $400 - half of which was spent on materials. In a series of step-by-step illustrations the creation of the model unfolds. Materials mentioned for the construction of the model were modeling clay and liquid latex rubber. Other materials listed, for a generic background structure, include chicken mesh wire and plaster of paris. Randy Palmer's affectionate book Paul Blaisdell, Monster Maker (McFarland, 1997) mentions the additional materials needed to complete the model; small plastic eyes, plastic fangs, rubber lizard tails for antennae and wire hangers for the bat-like wings.
Continue reading "The Beast With A Million Eyes
By Professor Kinema" »