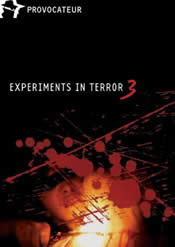 "Striking for the third time, Experiments in Terror 3 unleashes another hallucinogenic orgy of the uncanny, the dreadful, and the macabre."
Well, perhaps...
"Employing a mesmerizing montage of terrifying tropes and fiendish footage, our kino-coven conjures more than a bewitching hour of visionary cinema. Pounding a stake through the heart of genre convention, this shocking program expands the cinematic language of fear, breaking the chains of narrative logic and leaving only the black void of the infinite unconscious."
We'll be the judge of that...
Max and me chat about our likes and dislikes with Experiments in Terror 3. TK from Love Train for the Tenebrous Empire was scheduled to join us, but she ditched at the last moment. Smart move given our level of conversation. We did copiously borrow from her review, though, as she is much more articulate than either of us.

me: I looked for eit3 on imdb, but didn't see it.
Max: To hell with the corporate fellatio that is IMDB! (Raising clenched fist in the air) ;)
me: Swish! and another proletarian-despised head hits the basket. Hey, no fair, you're using emoticons! I can barely type.
Max: YOU can barely type? I don't even exist! I'm a roomful of monkeys--one of us at a time accidentally producing coherent sentences!
me: Well, then send a few of them over to help me out. While I'm waiting let's discuss the first film about Richard Chase.
Max: You know, when I was told that the first film on the review screener I was going to get was a Dick Chase film, I thought it was going to be a different sort of film!
me: Long pause as I look up Dick Chase...
Max: Aw, Zombos, you don't look up *subtext*!
me: Ohhhhhh. I did find Deck Chairs, though.
Continue reading "Movie Review:
Max and Me Look At Experiments in Terror 3" »