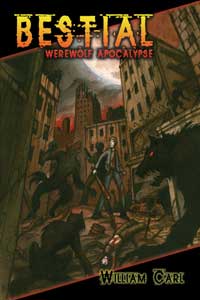 Zombos Says: Good
"Hello?" I answered my desk phone.
"Is this Zombos?"
"No, I'm Iloz Zoc. Zombos is out and about."
"This is Billy Castle from Monumental Studios."
"I'm sorry, who?"
"Monumental Studios. You know, "If it's done right it's Monumental."
"Oh, right, I remember that tagline now," I said.
"Right. Right. Look, I'm calling about this script Zombos sent us. He's gotta spice it up if he wants a chance at a straight to DVD release. You know, it needs lots more hooters or gore or hooters  with gore to stand out from all the other hooters and gore titles cramming the shelves. What he's got here is boring as hell. I mean who's gonna go for werewolves and moonlight and silver bullets these days that's old, old, old ...."
"But Dog Soldiers had lots of gore and action, and it--" I said.
"Well, okay, yeah, but this script ain't no Dog Soldiers. He's got transvestite werewolves attacking cross-dressing vampires, in San Francisco for god sakes. Hell, they're all males. Got it? No hooters. And location shooting over there is a bitch."
My cell phone started playing Clap for the Wolfman. "Hold on a minute will you? I've got another call on my cell. Okay, thanks. Hello?" I answered the other call.
"Hello, is this Zombos?"
"No, he's out and about. I'm ILoz Zoc his valet," I said.
"Damn, I keep missing him. Look, Zoc, this is William D. Carl. I wrote Bestial: Werewolf Apocalypse. Zombos was supposed to do a review of my book. Do you know if he's finished it yet?"
"Him review a book? I don't think he's ever done a review for anything, but he does criticize everything. No, actually I've just finished it myself. Enjoyed it a lot. But I'm not sure I can get to it before the next full moon. Just kidding. William? William? Oh, I thought I lost you. Anyway, I'm backed up with other Permuted Press titles before I can get to it."
"Oh, crimminy! Can't you knock it up to the top of the pile? Who's ahead of me?"
"Bowie Ibarra. You know, the zombies down the road guy."
"Oh, c'mon, not another zombie review! I like Bowie, but zombies are old, old, old," said Carl.