After a few hundred issues bollocksing about in Hellblazer, DC reboots a New 52 inspired John Constantine, after retiring his demon-tired bones in a lacklustre and poorly drawn finale (Hellblazer No. 300).
Constantine No. 1 brings a more youthful Constantine into the DC Universe and Renato Guedes art, which accentuates camera-angle panels showing Constantine at his best and worst--a normal day for him in the world of magic and shadow he walks in.
But Constantine is now in New York City, with spiffy new occult digs, down the stairs in Dotty's Pet store. His double-breasted trench coat looks less rumpled (more Prince than Columbo), his hair more fashionable, and his demeanor less like a cigarette aftertaste and more like a Jack Daniel's sipped over ice with a Heineken chaser.
Ray Fawkes and Jeff Lemire have a good handle on the bitter and the sweet of it, but make no mistake, this Constantine is more movie-ready, less foul-mouthed, and, so far, less British. You get the impression he went through the New 52 cleaners instead of his trench coat.
What remains the same is how he handles dire situations by relying on friends and close associates. Readers familiar with the death toll around Constantine know what getting close to him means to any long term relationships. That's where his morality comes into question, and it's a question that propels his old, and now, new series of trials and tribulations with black sorcery, Heaven, and Hell, and all those nasty, black squiggy places in-between points North and South.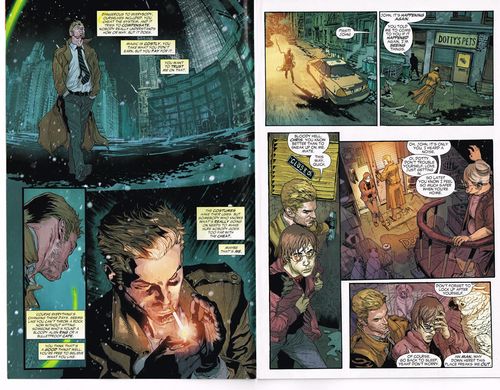 At 20 pages, the setup brings into play an evil cult (aren't they all?) called The Cold Flame, an old acquaintance best forgot, and Constantine playing the odds, which always seem to fall in his favor--to some degree. This first installment of The Spark and the Flame is tight, neat, and delivered with as much assurance as even John Constantine can deliver.
And he still smokes. Let's hope New York City's Mayor Bloomberg doesn't notice, otherwise Constantine may have to face a real foe even he can't conjure away.
A courtesy copy was provided by DC Comics for this review.