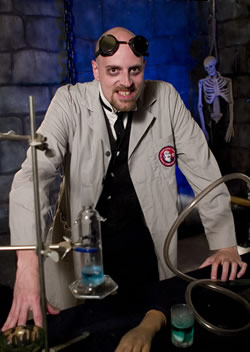 Many fans of horror, amateur and professional alike, have devoted themselves to blogging about the thrills, chills, and no-frills side of the genre as seen in cinema and print. In this ongoing series that highlights the writers behind the blogs, we meet the unique personalities and talents that make the online horror scene so engaging. Up close and personal.
As a special treat for Thanksgiving, noted horror host Dr. Gangrene of Tales From the Lab mixes up a wonderful formula of weirdness with all the dressings.

It's hard to say exactly when the horror bug bit me. For as long as I can remember I just always seemed drawn in that direction. I know for a while I worried my parents. I seemed obsessed with the dark side of life. If I went to the library I came home with books on ghosts, or Poe, or the supernatural. If there was a Horror or Science-Fiction movie on TV I always wanted to watch it. My best friends were comic books and cartoons. I just wasn't "normal." But then who is, really?
Thinking back on it, the biggest influences on me were things that I encountered in my youth. When I was a kid I was in Boy Scouts (this was in the early seventies). At one Scouting event we met local Nashville horror host Sir Cecil Creape. I have some vague memories of this (I was probably around 7 or 8 years old at the time (1st or 2nd grade). Everyone there received a patch that said "Sir Cecil's Ghoul Patrol." I still have that patch to this day, and in fact the first thing I did when I started my own horror host program was to sew that patch onto my lab coat in homage to Sir Cecil Creape. But I'm getting ahead of myself…
Continue reading "Meet the Horror Bloggers:
Dr. Gangrene's Tales From the Lab" »