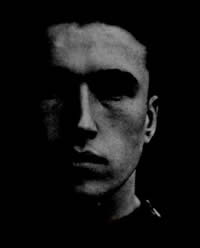 Many bitch that we don't read anymore, but I don't think that's true. I think many are just waiting for the novel to catch up with their expectations of entertainment. There will always be a place for word on paper, but what DeadBooks.com represents is where the novel may be headed: what its true potential can be once it's ripped free from the wood.--Hasso Wuerslin, author of The Deadbooks.
It is close to 10:00 PM on a Sunday night and I am reading, watching, and listening to The Deadbooks, Hasso Wuerslin's self-termed hyper-serialization of the unpublished science-fiction and horror novels in his Deadbooks series. Chapter One had me thinking he needs to work on his Flash skills more. By Chapter Two, I started getting into the mysterious town of Landsgate, Vermont, and the greatly confused Will Lant, who is not sure why he is where he is, or what the dreadful mistake is he thinks he's made. Those 'Missing Person Will Lant' posters he keeps coming across don't cheer him much either, especially when everyone else is missing in the small town. By Chapter Three, I wanted to learn more about the home of Eddie Ranch--'who looked bug-shit crazy'--and what was in the cellar. The Deadbooks hyper-serialization, in spite of the loading...loading...loading message that pulsed between pagescreens, began to intrigue me and my interest in the story grew from chapter to chapter.
Maybe Wuerslin is on to something here. It's rough around the edges, sure, and sometimes the voiceovers grate on your ears, but given where printed media, audiobooks, gaming, and the Internet are poised in this digital age, Wuerslin may be a pioneer in creating a novel experience by immersing the hyper-reader into his bizarre world of Landsgate, Vermont. This hints at other applications beyond the Internet. I recently visited my local Borders book store and stood amazed at the 75th Anniversary issue of Esquire Magazine with it's electronic ink (e-Ink) cover. It was primitive, true, but I was giddy all the same. Within a few years, we will be reading, listening, and interacting with our electronic paper magazines and books in ways that will combine what we do separately now in various mediums. Who says wireless reading devices like the Kindle cannot be used more creatively with multimedia-stylized novels--something short of a game but more than a printed novel, in much the same way that Wuerslin is e-Publishing his stories now.
According to Wuerslin, The Deadbooks encompasses 150 chapters, involves 100 actors (okay, his friends and family I am sure), and the cutting-edge sounds of musical artists worldwide to provide a mash-up of story-telling techniques. You can experience the first seven chapters, then pay a small amount to read the rest.
I asked Wuerslin to step into the closet for a brief chat about his work.