Here's a teaser for you: one of my chapters to be found in the forthcoming book, 70s Monster Memories, edited by Eric McNaughton (publisher of We Belong Dead magazine). Publish date is around Halloween, so be ready to get a good stiff jolt of nostalgia, powered by dozens of 1970s monster kids just like me.
In 1965, the neighborhood corner store's magazine rack was filled with monster magazines and many freshly minted monster kids. Gorged on the zany, horror-host-hosted Shock! television packages of classic (and often spastic) horror and science fiction movies, monsterish humor was hotter than an angry villager's sputtering torch. It would take maturing monsterkids in the 1970s to clamor for more sophisticated reading, but until then blame Vampira and Forrest J. Ackerman's Famous Monsters of Filmland for making horror movies cool by poking a little fun, and a lot of puns, their way.
And also profitable. It didn't' take a mad scientist's machinations to realize that by adding funny captions to movie photos (often already owned or loaned from the movie studios), you could easily fill up a magazine's pages on the cheap.
Carrying this humor angle to the extreme was Cracked's For Monsters Only: The Official Magazine for All Monsters! Begun in 1965, and running through to its 10th and last issue in 1972, its funny cartoons and illustrations, wacky John Severin drawn comics and covers, and wide assortment of crazy-captioned movie photos populated by aliens, monsters, and other assorted creatures (and their victims), were aimed at the reader's funny bone instead of his or her jugular vein.
Never quite finding its circulation or format footing, the issues wavered between being overrun by Cracked-slanted cartoons, illustrations, and captioned photos, or nominally kept at bay by non-humorous content, like the The Secret Files of Marc Vangoro's comic-illustrated stories, tossed in for the horror comics fan, and the informative articles, written by Richard Bojarski, which highlighted the notables of horror along with their movies.
By 1972, Cracked's For Monster's Only was doomed. More relevant magazines clamored for the corner store's rack space, and avid readers, by appealing to the multi-genre fans emerging in the 1970s. Monster kid appetites were becoming more voracious, seasoned by the beginnings of the comic book and popular culture conventions, into devouring anything and everything comic books, horror movies, and science fiction and fantasy. Cracked's For Monsters Only, whose content was never really enough to satisfy that appetite, and with its publication too sporadic to become more than a mouthful, would be left on the racks and lose its readership faster than a vampire could make a blood bank withdrawal.
But before its end came, the Cracked visual style, led by John Severin, would create an unforgettable visual mix of detail and exaggeration that would bring charm, fancifulness, and satire to the classic monsters that is still highly regarded today.
Following are some notes on each issue for your edification pleasure.
The first issue, 1965, sets the Cracked tone and mood with John Severin and George Gladir's A Monstar is Reborn. The monstar in this case would be Bela Fangman, who, having fallen out of popularity, cooks up a new rock and roll band, Bela and His Bat Pack, to appeal to the younger set. For classic horror fans, it's a little bittersweet knowing how much this astutely witty story plays off of Bela Lugosi's failed career and that unstoppable 1960s rock and roll wave coming from Great Britain to wash over the United States in the 1960s. The letters page, Post Mortem Office, is here, although the letters are written by monsters, not readers, and the signature Cracked humor is in abundance with Monster Mother Goose cartoons by McCartney and other cartoons by assorted artists. A whopping 14 pages of ads (although now we all wish we had ordered all those cool items) fills space along with lots of funny captioned movie photos. Stationary from Transylvania takes up 2 pages, but I'm not sure how many readers actually cut out the anemic looking stationary samples to use them as they were too small for practical use. A too short article on the Chaney's seemed rushed as did the entire issue, giving the impression of a hasty paste-up grab to fill pages to cash in on the monster kid craze.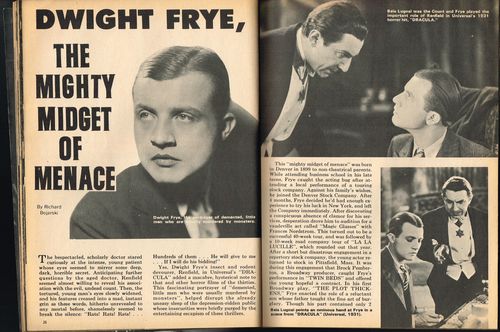 Issue 2, 1966, kicks the magazine into higher gear. Richard Bojarski brings his horror movie historian expertise to The Bela Lugosi Story, which outlines the career and travails of the great horror star. This is the only article in this issue. Cracked humor is well represented with the Shriek Shop Dept. (items from a Sears Roebuck-styled catalog for monsters), The Greatest Monster Battle of All Time 2-page illustration (another Severin gem), and more cut-outs with Transylvania Cut-Out Signs (Please Keep Off the Quicksand, This Side of Casket Up, etc.). Severin also illustrates Modern Witchcraft, a short guide to handling tough life-issues with items like the Teen Voodoo Doll, "just the thing for commuters who must share public conveyances with inconsiderate teens," and the Good Luck Against Home Movies hex for when your neighbor's invite you over to watch their Kodak memories. The back cover provides a "giant" cut-out bonus ECCH Diploma, from the For Monsters Only School of Advanced Fiends. (Yes, I did cut that one out and framed it.)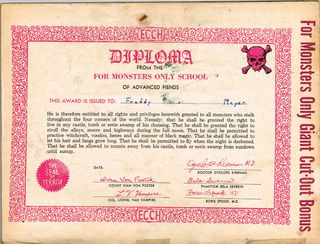 With issue 3, 1966, the cartoons, photo-gags, and horror coverage balance together better. Even the John Severin cover invites you in as it stares back at you from the overcrowded magazine rack, daring you to join the monster party. Richard Bojarski writes on The Horror Worlds of Karloff (and remember, there wasn't any Google or Wikipedia to refer to back then so this stuff was gold to horror fans), and Severin's School for Monsters shows us where all the monsters appearing everywhere in the 1960s are graduating from (horror host Zacherle, fittingly enough, heads its employment bureau). Cartoons are represented with Severin's Dungeon Dan-Dan-Dandies and Vic Martin's Fun Time Monsters.
Issue 4, 1967, is notable mostly for the inclusion of Peter Cushing and Christopher Lee, which brings coverage of Hammer's horrors to the magazine for the first time. Disappointingly, it would be, for the most part, the only time, too.
I wish a pox on the little terror (or maybe it was a big terror) that ran his or her errant pen across my copy of issue 5 from 1967! Cheeky little bastard. What, no one worried about collectability back in 1967? Wait a moment, actually no one did. Okay, nevermind. I rescind the pox wishing. Aside from that errant pen, more humor such as McCartney's The Nightmares of Monsters, and two thoughtful articles, Richard Bojarski's The Man Behind the Monsters: The Story of Jack Pierce, and The Horror Hits of Peter Lorre, make this issue a memorable read. Transylvanian Rock "n" Roll Monsters illustrated by Vic Martin purports to show the teen scream scene with Sonny and Spear, Rickets Nelson, and Bobby Die-lan. Gunspook with Matt Monster provides some attempted zaniness with western horror. Photo-gags and more cartoons round out the usual suspects.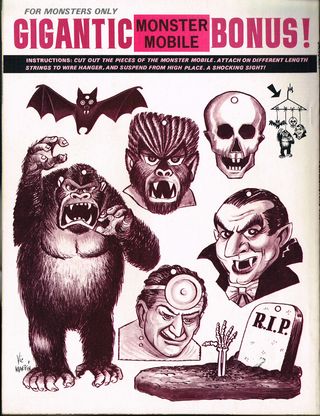 A stellar issue 6, 1969, took a while to hit the magazine racks but it has it all. There's Vic Martin's groovy monster mobile cut-out on the inside and back covers (sure, I cut it out way back then and hung it up), Jerry Grandenetti's poetic, kinetic art in the 16 pages of The Secret Files of Marc Vangoro, Frankenstein '68 (with story by Otter Binder, I believe), and Richard Bojarski's studious articles on John Carradine and Lionell Atwill. The ad pages also have those must-buy items like the miniature secret spy camera (yes, I bought it) and the Monster Size Glow in the Dark  Skeleton (ditto). I also bought the x-ray binocular specs but I still couldn't see through walls or clothes so that was a disappointment. Curiously, coverage on Hammer and the more recently released American horror movies, except for an inside cover photo of Peter Cushing, is missing in this issue—but it's now 1969. Such coverage would be nearly a no-show throughout the magazine's run.
Richard Bojarski comes to the literary rescue in issue 7, 1969, with two very informative articles, Peter Cushing: Monster Fighter and Karloff and Lugosi: The Titans of Terror. Otherwise, it's the usual ad pages, humor pages (which are actually quite funny this time around), and the 16-page The Secret Files of Marc Vangoro, Master of Horror.
Sporting another groovy cover by John Severin, issue 8, 1969, is chock full of articles, photos, and another vibrantly ink-washed Marc Vangoro comic, Jekyll and Hyde 69. The usual photos with gag-captions abound, but oddly enough, and perhaps tellingly, for the first time there are no cartoons or illustrated humor pieces. Richard Bojarski shines in this issue with Fantasy Films of the Forties (with a focus on Lon Chaney Jr) and Dwight Frye, the Mighty Midget of Menace (although I think Bojarski stretched a tad too much for that catchy title). Again, more contemporaneous horror movie fare is not to be found. Either they had to pay for the use of the newer photos or the Cracked team just wasn't up to keeping the magazine relevant to its changing readership.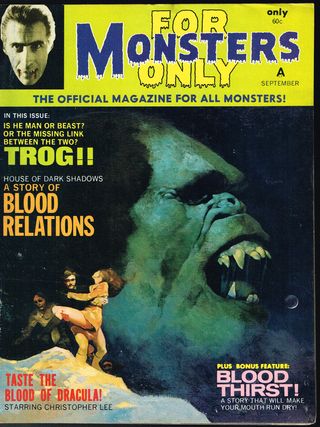 Perhaps not so surprisingly, by 1971 and issue 9, "Cracked's" is removed from the magazine's title. Now called For Monsters Only, this issue has more movie-related articles covering House of Dark Shadows and Taste the Blood of Dracula. Richard Bojarski's John Carradine, The Master Villain is reprinted from issue 6, and Trog gets far more treatment than it really deserves. The movie articles have no byline, and with the rehashing of previously published material and no Cracked patented humor, this issue is a portent of what's to come.
Issue 10, dated June of 1972, is the last "official" issue of For Monsters Only. The movies covered are Cry of the Banshee, Count Yorga, and Scream and Scream Again. A 7-page comic, Blood Thirst, and 11 pages of ads end the issue. "Cracked" appears in two ad pages, but there's no Cracked brand of humor in this issue (unless you want to count the worn out photo-gags from older movies). With so little coming so late--there's even a short article on Basil Rathbone, but it sticks out like a sore thumb—this 10th issue has no focus or zing to compete against magazines like the newer and slicker The Monster Times, or the established horror chops of an authority like Castle of Frankenstein.
But the monsters never die, do they?
Neither did Cracked's For Monsters Only stylish humor, which would be republished and revitalized with new monsters, again and again--reminds you of a horror movie franchise, right?--into the 1980s under such titles as Cracked Collector's Edition Monsters, Cracked Monster Party, and the mad scientist of it all, Cracked magazine itself. Of course, reprinting all that material saved time and money while bringing in new fans as well.
Wistful End Note:
As I finish up this nostalgic folderol about a vintage monster magazine, I'm looking at a much the worse for wear issue I recently picked up for my research. The previous owner of it must have treated it monstrously. I bet he read it, over and over again, in the wee hours of Saturday morning, with a flimsy flashlight held precariously in one hand as he flipped through the pages with the other.
And when the pages started tearing away from their spine, due to so many page turnings, he taped them back in place. Maybe his name was Freddy Meyer, the same person who wrote that name on the back cover's ECCH certificate. Or maybe Freddy was just one owner among many as the magazine made its eventual way to eBay. Or maybe this issue was owned by a girl who knew Freddy, and she borrowed it from him—Monster Kids stick together like slime and muck, you know--and she taped it for posterity because she liked Freddy a lot, and wanted him to know it, not knowing that iPad's and ebook readers would eventually eliminate the need for taping worn pages and holding flashlights precariously under bedsheets in the wee hours of the morning.