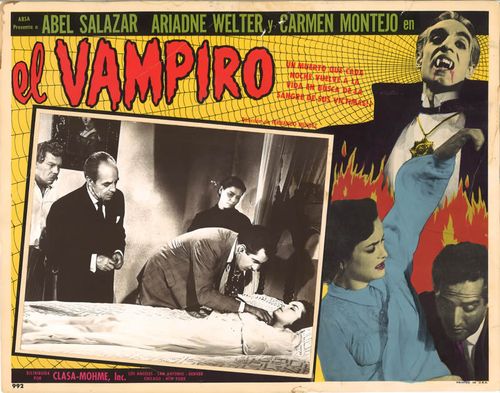 Although the Spanish version of Dracula would be the first celluloid vampire to terrify Mexico's moviehouse audiences in 1931, it wasn't until El Vampiro in 1957 that a home-grown vampire would flutter across the fogbound hacienda. Predating and, in key ways, anticipating the more dynamic blood-thirst in Hammer's Dracula (released as Horror of Dracula in the United States), El Vampiro shows sharp canine fangs, energetic neck biting with no blood, just tiny puncture wounds, and a prim and virtuous heroine with lots of clothing to protect her feminine virtues. Abel Salazar plays Dr. Enrique, a reluctant believer in the supernatural as well as a decidedly more amour-minded Van Helsing type than Peter Cushing's vampire slayer. Overt sensuality and ample bosoms would have to wait until Hammer's horror productions in lurid color.
In El Vampiro, Count Lavud (German Robles) is more interested in acquiring land than Count Dracula's (Christopher Lee) interest in acquiring more brides. Both noblemen vampires, however, share the same charisma and evening wear that began with Bela Lugosi, but add a stronger machismo and faster pulse for energetic dramatics.
The lobby cards for El Vampiro highlight the vampire's threat to society's norms of hacienda and family-motivated romance. Azteca printed (in the United States) and distributed lobbies using an actual photo pasted to the card, depicting a key scene from the movie. They were displayed in American moviehouses that catered to Spanish-speaking audiences. Note the use of the spider's webbing in the background, radiating from Count Lavud: it's reminiscent of the spider's web used in Lugosi's Dracula poster art and indirectly associates the Universal horror mystique to El Vampiro's production. Abel Salazar was a fan of Universal's Gothicism (and its money-making acumen) and copied it here and in his subsequent productions. He added a distinctly native flavor and style in the process. Of course, the vampire-fighting masked luchadores were waiting in the wings to stomp, throw, and slam their way into the genre, but that's another story, as well as another decade.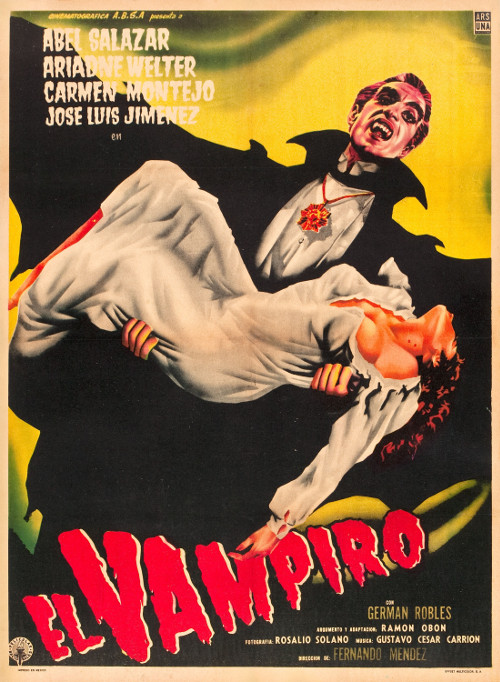 An alternative image of Count Lavud holding an unconscious female victim in nightgown, with her neckline opened to show more bosom, than was ever seen in the movie, appeared in the indigenous poster and lobby card artwork. It possibly followed after El Vampiro entered later distribution to second and third-run moviehouses. As the Mexican vampire mythology and its movies rolled out of production and into moviehouses, attitudes and exploitive elements evolved: female victims and female vampires predominated in advertising, unseating the primarily masculine role model of vampiric evil intentions, opening to more suggestive elements to bring in the male audiences with the allure of a naughty (but very sexy) vampire kiss, while also appealing to female audiences with its implications of dominance over men and control of their machismo. Interestingly, there is a slight variation between the poster and lobby card artwork in how much decolletage is shown: in the poster, the right breast is covered by the nightgown; in the lobby card artwork, the right breast is partially revealed.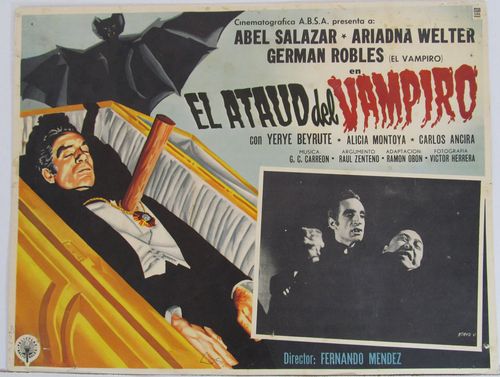 The sequel to El Vampiro is El Atuad Del Vampiro, 1958 (The Vampire's Coffin). The lobby card artwork is bloodless and sexless, but still impressive and direct, showing a really big stake driven through Count Lavud's heart. And its intrusion doesn't ruffle his evening clothes, which are still neatly pressed and unstained. For the Azteca version, the looming threat of the vampire (albeit more in line with spookshow theatrics than real terror) is uppermost in the artwork as he rises from his open coffin as a giant bat-like menace, with Abel Salazar returning to confront the reawakened count and protect Marta, played by Ariadna Welter.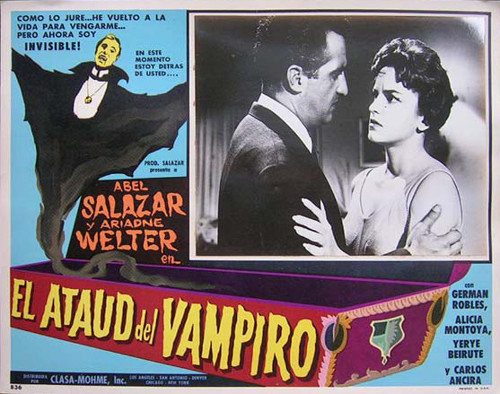 1963's La Invasion De Los Vampiros (The Invasion of the Vampires), which again pits a doctor against the vampiric menace, shows more provocative and exploitative elements in its lobby card and poster artwork. The sexy allure of a see-through nightgown-dressed female standing against a backdrop of moon and bats and gravestones, with a clock face hinting at the midnight hour, suggests more luridness than shown in the movie's plot of Count Frankenhausen's menacing of the local villagers. Due to Hammer's marketing prowess with its vampire and monster series, Mexican vampire movies, in their poster and lobby card artwork at least, began showing more bodily contours to imply more sexuality, and La Invasion De Los Vampiros's illustrations alternately made that see-through nightgown more or less revealing across its poster and lobby card iterations. But this freeing up of exploitation advertising was only just beginning.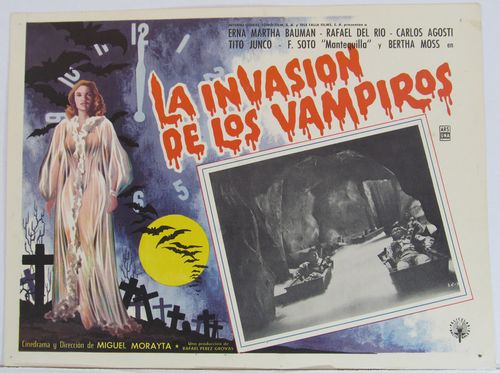 My article, The Sinful Allure of the Mexican Vampire, first appeared in We Belong Dead No.11.