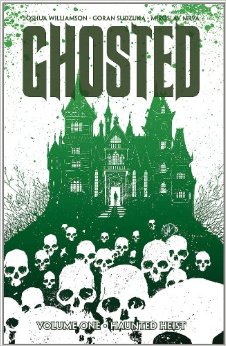 Zombos Says: Very Good
A haunted mansion, a team of supernatural investigators, and an odd request join together in Ghosted: Haunted Heist to bring ghostly terrors waiting in the Trask Mansion out of the woodwork . You're familiar with the Trask Family, aren't you? Of course you are. Like any perfectly functioning familial unit filled with serial-killing miscreants, the Trasks have managed to kill, make disappear, and commit enough urban legend trauma on close to a hundred people who never left the mansion after they arrived. Not while alive, anyway.
This five-issue series from Image Comics comprising Joshua Williamson's storyline could have used at least one more issue to lessen the hastily explained revelations he piles on top of each other in issue five. Up to then you will think the story's going one way, but then it goes down another, without much cleverly hidden, but necessary, preparation to ease the transition. It just happens rapidly and it's assumed we will accept it all at face value. Tsk. Tsk.
But this is still a good story, with a classic sense of scares and their timing: how can you not love a haunted mansion with wall to wall ghosts, a rich man who wants to add one of them to his occult collection, an ex-convict (actually, he was never officially released), and an assembled group of talented people who'd fit in nicely on an episode of either television's Ghost Hunters or Oddities.
There's Edzia Rusnak, the psychic and medium who's either really good or really fake; the so-so stage magician, Robby Trick, who has a knack for real magic and stealing occult items;  Oliver King, who mainly detects bullshit, so he's the skeptic in the group (yes, actually there's a reason to have him onboard); the TV ghosthunting team of Jay and Joe Burns, and yes, they do get burned badly here; and let's not forget that ex-convict, Jackson Winters, who's involved because he's experienced a nasty event at a casino heist he orchestrated, where his entire team died, badly, under mysterious circumstances. 
That dying badly part helps to explain why the rich collector of oddities and soon ghosts, Markus, has Anderson Lake (no, he's a she) spring Winters from jail, killing just about every convict and corrections officer in the process. She's a mean mother who dresses in...wait for it...a black jumpsuit. I know. I know. Ever since Emma Peel donned one in television's The Avengers back in the 1960s (and, oh god awfully yes, even in that mess of a movie with the badly miscast Uma Thurman), every dozing writer pulls it out of his flush pile when plain clothes simply won't do for active women of intrigue. 
Then Williamson writes one of the simply funniest three-panel dialog exchanges you will ever see in a comic book, so I won't beat him over the head too much for resorting to black jumpsuit cliches in a pinch. He also has Winters agree to the ghost heist only if Markus provides him with a Sinatra-like blue suit, a Russian hooker with big ones--real or fake don't matter--and a shave. I presume Williamson can shave himself, though, without a Russian accent.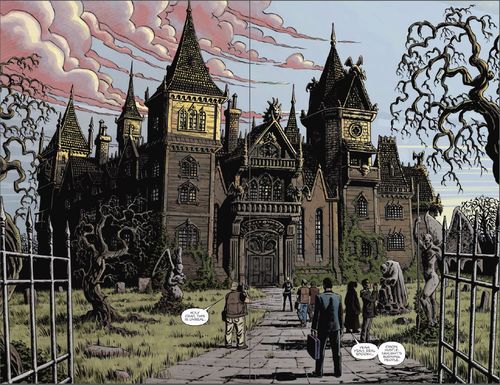 Helping keep Williamson's writing visually appealing is Goran Sudzuka's dark, horror-filled panels. While he's not one for detailed backgrounds, he's stellar at drawing characters, conveying every nuance of their truths, deceits, and fears with aplomb. The colorist, Miroslav Mrva, is a tad heavy-handed, saturating scenes with too much color more often than I'd like, but then surprises by coming up with spot-on tones for an interior bedroom scene at night and a nocturnal voodoo scene. The Trask mansion and its ghosts under Sudzuka's and Mrva's hands come to life in a strong House of Secrets kind of way. 
The storyline provides basic but classic themes for fans of supernatural horror to savor. Each issue provides enough of the story to carry on by itself, but combined here, the entire run is witty, creepy, and well-plotted between scenes of action, exposition, and mounting tensions; perfect for a quiet late evening at home and read with one light on.