Acquired this gem of a photograph, with Boris Karloff, Gloria Stuart, and Lilian Bond in a scene from The Old Dark House, from ebay; once again, from David J. Skal. Looking forward to his future offerings ;)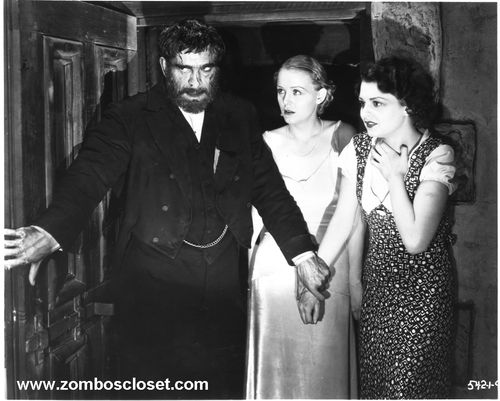 Here's Mr. Skal's listing details:
"For Karloff completists: a rarely seen image of Karloff, Gloria Stuart, and Lilian Bond in James Whale's THE OLD DARK HOUSE (1933). A crisp repro 8x10 bordered darkroom print on traditional fiber paper (not resin-coated). In immaculate condition (item is a barely handled file copy acquired by seller in the 1980s). Image has sharp contrast with no negative flaws, specks, or scratches in image. Only markings (on reverse) are film title and two small reference numbers in light pencil, with very small gray corner smudge (also on reverse). Seller has never seen image in any book or magazine."