A smart retro design of classic  zombie and 1950s motifs across these 78 cards, based on the Rider Waite Deck, make this zombiefied Tarot Deck perfect for Tarot Card readers who love the undead, and horror fans who love to give and receive unique zombie gifts. 
Replacing the Coins/Pentacles suit with Hazards (although each card's meaning is the same), the deck maintains the Major Arcana cards (like The Fool,  The Priestess, and The Magician, Strength, etc.) and the Minor Arcana suits (Swords, Wands, Cups, and Hazards). A small booklet of instruction is included, but read it more for the zippy zombie slant than for really learning how to do readings with the deck (see the blurb). There are plenty of books available on the meaning and reading of tarot symbolism.
Strength Card-- Your strength comes from within; you've stared down the zombie horde and they blinked first. Or they would have, if only they had working eyelids. You've learned to trust your instincts and stay on your chosen path. Use that same resolve to cowboy up when the zombies get their second wind.
By the by, the turbanned-zombie face peering out from the box is Alexander, a vaudeville Mentalist back in the 1920s. His tagline was "The Man Who Knows." He retired in his forties, quite rich from his stage act, and in his retirement explored the spiritual realm.
I highly recommend you explore your own spiritual horror realm with this neat zombie tarot. I'm hoping a zombie Quija is just around the corner.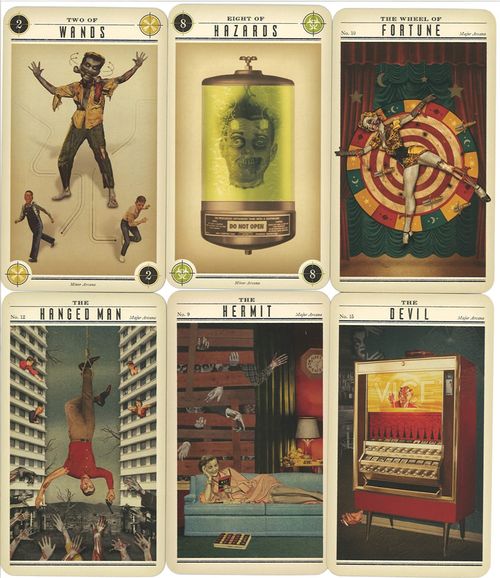 A courtesy deck was provided for this review.