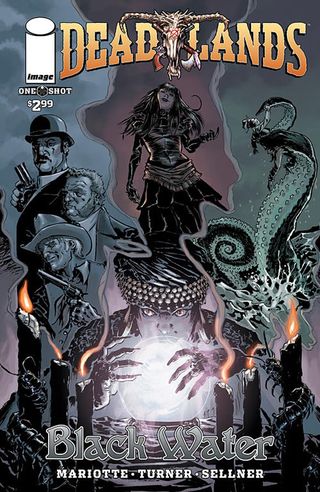 Zombos Says: Fair
There are times I scratch my head wondering if I'm not getting something; you know, in the sense of not understanding the story because I'm either missing important information I should have known before reading, or maybe I'm just lazy-eyeing it and I'm overlooking the obvious.
Then there are those times I read comics like Deadlands: Black Water and opine the sad fate often befalling the One Shot: not enough space to tell the story fully, no followup issues to spell out the obtuse into clarity. That irks me a lot, especially when the artwork is appealing, and the ghost of a story's there to haunt you just a little bit, but not enough to warrant the effort of turning a page.
I get the fact this is a one shot comic based on an RPG adventure. So what? I shouldn't have to know the game's intricacies to enjoy the story, although it would've probably helped me fill in some gaps in getting from the first to last pages. What Mariotte, Turner, and Sellner fail to accomplish is fortifying their story with enough sensible motivations and character actions beyond the perfunctory. I like weird westerns. I also like getting more explanation and better rationale for the weirdness. I know, it's a pet peeve I can't shake.
A portly man driven by a mysterious vision of a woman forces him to travel into dangerous territory with his bodyguard. They hook up with Lyle Crumbfine, tour guide through the dangers they need to circumvent to reach their destination. Expendable victims are provided; roll the dice.
The gun blast that blows a man's brains out at the end doesn't have a plausible explanation and it isn't rational given the story's context leading up to it (however, possibly plausible if you allow for Crumbfine's game hindrance, which is Grim Servant o'Death). And I'll reckon the fast walk-through, of we-don't-have-the-pages-to-show-you-this-stuff-so-just-take-our-word-for-it, kills whatever death at every page turn suspense those Deadlands should be providing. Black Water is shallow as weird western mayhem goes, and disappointing when you consider the artwork provides the only supernatural energy, of which the cover's the most exciting page in the whole book because it implies all the intrigue you won't find inside.
Not helping is the secondary 5-pager, The Kid in "Outlaw," which falls under Dime Store Backup: Part 4 of 4. Okay, I'll bite: tell me how it makes commercial and artistic sense to take much needed, flesh-out, pages away from  the main story in a ONE SHOT?
This is one shot that misses its target.