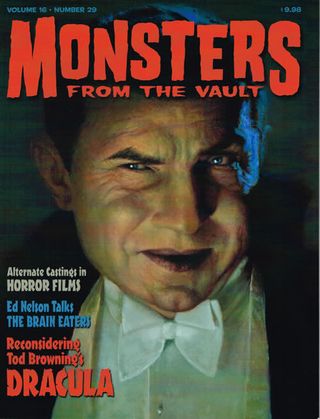 Zombos Says: Very Good
Drop everything and make like Renfield to pick up the latest Monsters From the Vault magazine, volume 16, issue number 29. In a detailed and exhaustive examination, analysis, and rebuttal that fills more than half the magazine, Gary D. Rhodes pins the fat, juicy spider of 1931's Dracula's growing cadre of deriders to the wall with academic gusto in The Curious Undead Life of Todd Browning's Dracula.
I can't think of anything Rhodes leaves out of his argument: the mystery of the now infamous piece of cardboard seen obscuring the lamp in Mina's room and the supposition that the Spanish Dracula, shot on the same sets, is superior to Browning's version are dissected frame by frame, scrutinized and compared with fervor, and refuted with quantitative information delivered deftly, blow after blow. 
Rhodes analyzes the movie within the context of the criticisms delivered by "it's key critics," disputing their assumptions. That Browning's Dracula adheres stultifyingly too closely to the play, or its cinematography is lacking when compared to the Spanish version (directed by George Melford, cinematography by George Robinson), or how Browning's pacing is slower, are some of the critiques Rhodes sinks his teeth into, managing to take quite a bite out of them in the process.
I'm not sure any other movie historian has resorted to using z-axis space to weigh the pros and cons of George Robinson's and Karl Freund's use of scene depth (Freund shows more), or has counted up the shots to prove Browning moves the camera more, and pans and tilts more than Melford did, or can state for certainty that the pacing is slower for Melford's movie at a running time of 102 minutes compared to Browning's 73; even when average shot length is taken into account. Rhodes details how Robinson uses proscenium framing considerably more than Freund, and highlights editing faux pauxs by Melford, such as the wine spilling redundancy, and the Dracula-as-bat bumping into Mina's bedroom windowpane with an audible thunk.
With a discussion of Carlos Villarias's bug-eyed acting and the use of mise-en-scene between both movies, Rhodes drives the rebuttal stake even deeper into the heart of Browning's Dracula nay-sayers. If you love the Browning/Lugosi Dracula as I do, you must read this article; if you love the Melford/Villarias Dracula, you still must read this article: hopefully it will bring you to your senses to realize Bela is best.