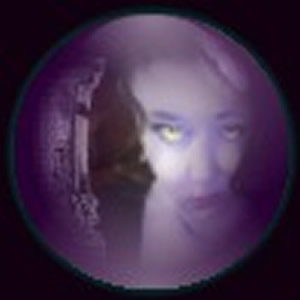 Five questions asked over a glowing Jack o'Lantern, under an Autumn moon obscured by passing clouds...in between mouthfuls of candy corn...with Kara of Wicked Crochet...
Why is Halloween important to you?
I look forward every year to Halloween's approach. What I really love is that for one night of the year you can be whatever or whoever you want with no judgement from society. From a beautiful princess to a rotting zombie corpse, anything goes. A night of whimsy, magic and imagination that takes me back to my childhood.
Halloween is also the one night of the year where the veil between the living and the dead is lifted. Ghosts, monsters and witches creep through the night. Carved jack-o-lanterns adorn every doorstep, the smell of the pumpkins burning flesh wafting through the crisp air. It's the lore and myth that fascinates me. Halloween is the night to scare and be scared and that is a total rush.
Oh and I almost forgot....The Candy.
Describe your ideal Halloween.
A walk through a corn maze, a visit to a haunted house, a little trick or treating, and, to top the evening off, a midnight stroll through an old cemetery.
What Halloween collectibles do you cherish, or hate, or both?
I have an adorable little jack-o-lantern trophy that I display proudly every year. In 1978, when I was seven, I won a pumpkin carving contest. Just that it has survived all these years amazes me.
When was your very first Halloween, the one where you knew it was Halloween and how was it?
I remember it well. I know the year was 1977 because every kid out trick-or-treating that night was dressed in a store bought Star Wars costume, except of course for me: my mom always made my costumes. I was dressed as Dracula's bride. I had a fabulous dress, high collared cape, and my awesome plastic vampire teeth with fake blood dripping out of the corners of my mouth. I can remember thinking how funny it was that the other kids weren't scary at all. What fun is that?
There was one house we went to trick-or-treat at that night that was decorated amazingly. There was a huge spider web made of rope that covered the front of the garage.The man on the other side was dressed as a creepy old wizard. The garage was full of fog from dry ice and had a black light going. I was so scared but I walked up to that creepy guy, reached my hand through that spider web, and got my candy!
Whats the one Halloween question you want to be asked and what's your answer?
Q: What is the strangest thing you have done for the love of Halloween?
A: Three years ago I had a jack-o-lantern tattooed on my leg. That's how much I love Halloween.