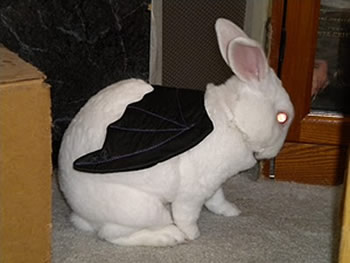 Five questions asked over a glowing Jack o'Lantern, under an Autumn moon obscured by passing clouds...in between mouthfuls of candy corn...with author Scott M. Baker (The Vampire Hunters)...
Why is Halloween important to you?
It's the one day of the year where everyone wants to be scared. It gives those who ignore the genre for the other 364 days of the year an opportunity to know the thrill and enticement us genre fans experience daily.
Describe your ideal Halloween.
My ideal Halloween would be to own a home with a large enough front yard to set up a really awesome nightmare display. I dream of having desiccated zombies crawling out of the dirt along the driveway, corpses hanging from the tree, a giant spider precariously perched above the front door, and anything else my twisted imagination can dream up.  In my hometown lived a guy who used to deck out his house with so many Christmas lights that people would drive from miles around just to see it; I want people to do the same for my Halloween display.
What Halloween collectibles do you cherish, or hate, or both?
I like most of the Halloween decorations I put up around my place. The vampire bat with the four-foot wingspan that hangs over my garage. The decaying skeleton torso I hang from my bedroom window. The life-size Angel of Death I hang from the door knocker.
The collectible that is nearest to me is a simple ceramic skull that I set up on the dining room table every year. Back when I was a kid, my Aunt Bobby made it for me in art class because she knew that, as a Monster Kid, I would appreciate it. Today it wouldn't scare a three-year-old, but that doesn't matter. It reminds me of my aunt, who passed away almost ten years ago, and how she was one of the many family members who encouraged that weird little kid who loved monsters.
When was your very first Halloween, the one where you really knew it was Halloween, and how was it?
I don't remember my very first Halloween. I do remember, however, Halloween as a kid in general. A few weeks before the holiday, my parents would take me to the costume section of the local department store to choose what I wanted to be that year. Back then, the costumes came in small boxes and consisted of a cheap, flimsy, overall-type outfit with an accompanying plastic face mask with eye holes so small they scraped the hell out of your lids. (You Monster Kids out there know exactly what I'm talking about.) Then on the hallowed night I would go out and prowl the neighborhood, where I thought I was the scariest/coolest monster on the block, and return home to eat myself into a self-induced sugar high.  I miss those simple times.
What's the one Halloween question you want to be asked and what's your answer?
Q: What would be your ultimate Halloween costume? A: I would want a make-up artist to deck me out as a rotting zombie with the whole nine yards: grotesque, oozing neck wound; ripped open abdomen with the obligatory intestines hanging out; and torn up face with exposed jaw.
I also have a standing invitation from a close author fiend to go out one Halloween with her and her daughter as Gomez, Morticia, and Wednesday Addams. I'm hoping to cash in on that someday.