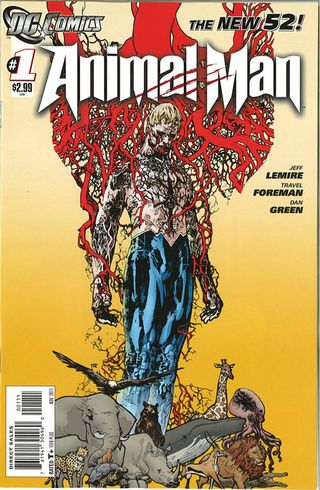 Zombos Says: Good
I'm new to Animal Man and probably wouldn't have picked up any of the issues except for DC sending me a review copy for their The New 52! reboot.  I like it. I like Jeff Lemire's story more than Travel Foreman's pencils, but there's enough like to share with both.
The use of a full-text opening page is pretty daring, but it sets the tone for the story and it's lively--written as a quick, but revealing, interview with A-Man conducted by The Believer magazine. Lemire sets up the next few pages in Buddy Baker's kitchen with his family. His wife's grumpy, his daughter Maxine wants a doggie, and A-Man--or is it just Buddy B, average guy now?--isn't sure which foot or paw to put forward until his son Cliff mentions the hostage situation at the hospital. At least it gets him out of the house.
Foreman's wispy thin lines are not a deal maker or breaker for me, they're just a little too feminine when more masculine is needed. Dare I say dainty? For chrissakes this is Animal Man where talking about. Brutish, feral, big gonad animus daddy doesn't spring to my mind through Foreman's art. He seems to have a little trouble with certain head angles, but overall the emotion in each panel does come through. Then again, the nightmare sequence, colored in greys, blacks, and reds, shrieks horror! with its primal energy. So I'll sum it by saying Foreman's style is not my cup of pencils, but it still works well to enhance the story, even if I'm thinking a Neal Adams' ruggedness-styled A-Mannish approach more appropriate. 
Lemire doesn't waste any of his 20 pages and his writing style melds with Foreman's lighter touch to produce a solid read for the first issue. The interaction between Buddy's family is earnest, real, and the doubts and concerns and needs of everyone, including Buddy, makes the storyline naturally peak to the last panel, which comes as a morbid surprise adding to a growing mystery I'd want to know more about in issue 2.