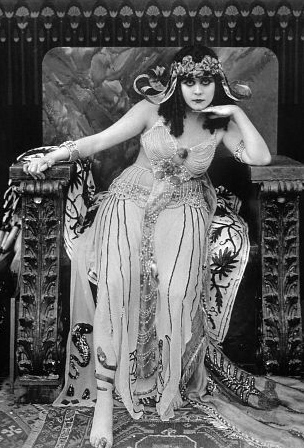 A Fool There Was (1915)
The Vampire (Theda Bara) to one of her victims: "Kiss me, my Fool!"
Hold Your Man (1933)
Eddy (Clark Gable): "Listen, Sweet Meat, how about you and me getting together tonight, huh?"

Ruby (Jean Harlow): "I like your nerve!"

Eddy: "That ain't all you're gonna like. Wait'll you see how I grow on you."

Ruby: "Yea, I can imagine, just like a carbuncle."
A Night at the Opera (1935)
At the beginning of the Stateroom scene, Ravelli (Chico) to Tomasso (Harpo): "Hey Tomasso, wake up, they're gonna fix-a the bed."
Room Service (1938)
Miller (Groucho Marx) to Davis (Frank Albertson) introducing Faker (Harpo Marx), who is standing with his mouth agape: "This is Mr England, the brains of the organization. That'll give you an idea of the organization."
The Thing From Another World (1951)
Scotty (Douglas Spencer) to Captain Hendry (Kenneth Toby): "Let me get a picture, before someone makes a salad out of him (the Thing)."
La Strada (1954)
The Fool's (Richard Basehart) final words after a fight with Zampano (Anthony Quinn), while clutching his head: "Hey, you broke my watch!"
Dr Strangelove, or, How I Learned to Stopped Worrying and Love the Bomb (1964)
General Ripper (Sterling Hayden): "Mandrake, were you ever a prisoner of war?"

Mandrake (Peter Sellers): "Yes, Jack, I was."

General Ripper: "Were you tortured, and did you talk?"

Mandrake: "I don't think they wanted me to talk, really. It was just their way of having a bit of fun, the swine. It's just that they make such bloody good cameras."
Bonnie and Clyde (1967)
Clyde (Warren Beatty) to CW (Michael J Pollard): "Go get your pants on, boy. We're gonna take some pictures."
Point Blank (1967)
Brewster (Carrol O'Conner) to Walker (Lee Marvin): "This is a corporation, we deal in figures, we never see cash! I've got about $11 in my pocket."
The Flim-Flam Man (1967)
Curley (Michael Sarrazin) to Sheriff Slade (Henry Morgan) about Mordecai Jones' (George C Scott) release: "Give him his suitcase. He needs it to keep his balance."