Zombos Says: Very Good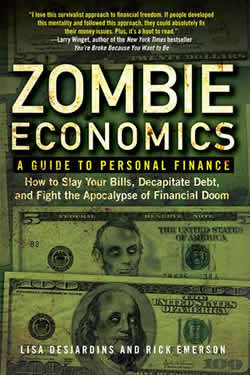 The premise of Zombie Economics: A Guide to Personal Finance is simple: "every skill required to survive an economic disaster mirrors a skill required to survive the zombie apocalypse." To authors Lisa Desjardins and Rick Emerson, those skills include knowing where the zombies are (your bills and other expenditures), and making sure you stock up on ammo (your savings) to keep them from putting the bite on you (your financial doom). This lively personal economics survival 101 course covers the essentials, with a continuing fictional storyline across chapters to remind you it's you against them at all times. No one's coming to your rescue (unless you live on Wall Street). 
Worksheets abound to help you identify where all the weapons are (itemizing your cash flow and where it all goes), and why walking into a graveyard during a zombie apocalypse could be suicide (leaving your job when you cant' afford to).
But in case you are foolish enough to do so--or get unwillingly tossed into it by circumstance --they've included a chapter to help you "not eat your own brain" during unemployment. I was out of work for seven months during the lesser recession before this great recession, and I can tell you eating your own brain isn't tasty, but when you're out of work and getting desperate, you'll be sorely tempted to do so. If you're still out job hunting during this wonderful-for-Wall-Street rebound you know what I mean.
Any one of the chapters in Zombie Economics could be fleshed out more, but Desjardins and Emerson's goal is to provide a firm footing for your monetary survival, especially for the young person facing a future of potential terrors from voracious credit card debt and lumbering bills that refuse to die.  The zombie paradigm provides an entertaining way to get this important information across. 
Before it's too late.