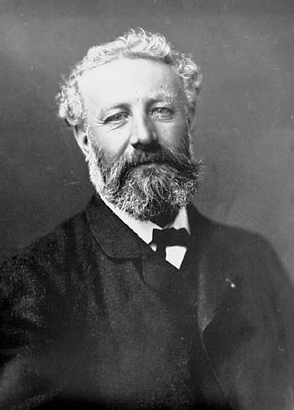 By Professor Kinema
Whenever we travel to Europe, averaging at least twice a year, we often plan a day trip of some sort. A good friend of ours lives in a suburb of Paris. Philippe (with a lovely wife and three charming children) greatly enjoys providing the transport for our occasional day trips.
One day trip was to Bayeaux, to view the famous tapestry, and then on to Amiens. In Amiens we had a most pleasant visit at Jules Verne's house/museum, then out to find his gravesite. A few minute's ride and we were at Cimetière de la Madeleine.
One of the fun elements of searching for celeb gravesites is in the 'quest.' For some reason, I wasn't prepared with the specific site coordinates so we started to explore the avenues. I did know that his grave site was close to a major cemetery roadway and not hidden somewhere among other graves. After walking for as long as we thought we should we came upon two ladies. We struck up a conversation with them and mentioned that we were looking for the gravesite of author Jules Verne. They simply said, "follow us." Within a few minute, we were there.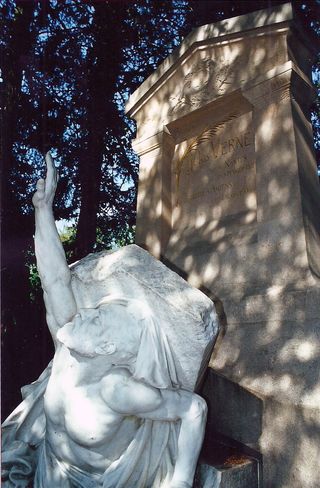 The exquisite sculpture atop the gravesite was created by Albert Roze. It depicts a figure, Verne himself, bursting upward out of his tomb and reaching for the heavens. The tombstone simply reads, 'Jules Verne, ne a Nantes le 8 Fevrier 1828 - Decede a Amiens le 24 Mars 1905.'
Two photos of it are a part of my Professor Kinema page (http://www.reocities.com/profkinema). Just being here within a few feet of this magnificent site was an exhilarating experience. We couldn't help but follow the line of the outstretched hand and look towards the heavens ourselves.
From the 1860s until his death he considered the genre of his works to be Voyages Extroadinaires. With the premier issue of Amazing Stories in April of 1926, editor Hugo Gernsback gave spiritual birth to the phrase 'Scientifiction' (a combination of 'Scientific Fiction,' as earlier published stories were called). Later this phrase morphed into 'Science Fiction' (and eventually 'Sci-Fi,' 'SF,' 'Ess-Eff,' et al).
A drawing of Verne's gravesite graced the top of the main page of Amazing Stories for many early issues. Many Verne works were reprinted in Gernsback's pioneering bedsheet format (later switched to pulp format) magazine.
--JK/PK