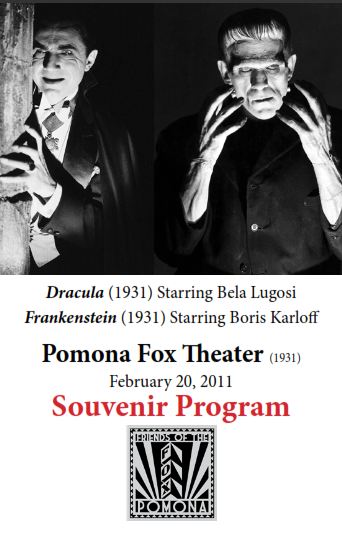 Thanks to Scott Essman, here's the souvenir program just in case you can't make it to the showing (in pdf, so may take a few moments to download).
Friends of the Pomona Fox presents An 80th Anniversary Tribute To Two of Universal Studios' Greatest Monster Films,
Dracula & Frankenstein
"Both films were released in the same year that the Pomona Fox Theater was opened to the public (1931), and it seems fitting that this 80-year-old theater play host to two 80 year-old classic films.
"This program is made possible through the generous assistance of our program sponsors.
"Special thanks to Scott Essman for putting together this program and to all of our volunteers who work tirelessly to ensure a quality program. Also thank you to Universal Pictures for donating copies of the two films for our raffle and to Art In Clay Sculpture Studio, Famous Monsters of Filmland, and Creature Feature for bringing in the lobby displays."