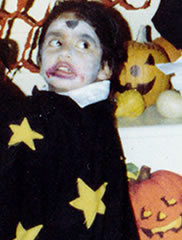 Five questions asked over a glowing Jack o'Lantern, under an Autumn moon obscured by passing clouds...in between mouthfuls of candy corn...Fiji Mermaid of Sideshow Cinema steps out of the Black Lagoon to celebrate Halloween with us...
Why is Halloween important to you?
Halloween is important to me because as far back as I can remember I've always liked monsters, whether it be toys, songs, movies and such. That interest is still there to this day and thankfully there is a Holiday and a month that really puts that monstrous vibe out there for everyone to enjoy. As soon as I see the first Halloween store open, or decorations start to appear, it gives me that feeling of scary fun that only Halloween can bring.
Describe your ideal Halloween.
My ideal Halloween would be to set up some spooky decorations around the house and have some of the haunted house sound effects I've collected over the years playing on loop through some speakers positioned in the windows to set the mood. Dressing in costume to hand out treats seems like the only way to do the job right, so I'd pick out one of my costumes from the "Halloween" bin. I think surprising or giving a bit of a scare to the kids coming to get candy will help to pass on that fun of Halloween. If years down the road they can sit back and think about their own Halloween memories of the scary guy who was handing out candy then I've done my job of keeping Halloween alive.
What Halloween collectibles do you cherish, or hate, or both?
I don't have any Halloween specific collectibles, oddly. I love the season so much, but there hasn't been a collectible outside of various scary film characters that were put into toy figure form that I can deem as collectible and fit into the spirit of Halloween.
When was your very first Halloween, the one where you really knew it was Halloween, and how was it?
My first memory of Halloween was pre-school Halloween party/parade and dressing up as Dracula. My mom had some small little handmade witch cape with yellow moons and stars on it that I wore over some "Sunday best" type of clothing. My mom did my make up for me. I had the slicked back hair, white face and blood dripping down the sides of my mouth. I've looked at pictures of this day and the other kids are clowns, cowboys, Luke Skywalker and such. I look like the only scary kid in the bunch.
What's the one Halloween question you want to be asked and what's your answer?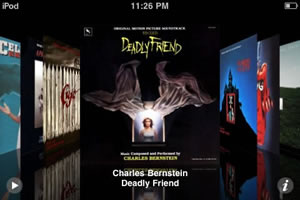 Q: Do you have a Halloween playlist on your iPod and if you do what are you listening to?
A: Yes, of course. There are certain genres and artists I stick to with my general music listening, but when it comes to Halloween I'm all over the board. If the content of the song has any even flimsy Halloween reference, or scary topic, it shows up in the "Halloween playlist". If it's about Halloween or appeared in a horror movie, that grants it access to the list.
I'll not bore you guys with my complete 2+hrs long list of songs, but here are some highlights. I recommend tracking these down if you don't have them and adding to your own Halloween mix. They are sure to liven up any party this time of year.
Tim Curry - "Anything Can Happen on Halloween"
3-Speed - "Once Bitten"
John Carpenter - "Halloween Theme"
Elvira - "Monsta' Rap"
DJ Jazzy Jeff & The Fresh Prince - "Nightmare on My Street"
Misfits - "Dig Up Her Bones"
The Cramps - "Surfin' Dead"
Wild Beasts - "Hooting & Howling"
Motorhead - "Hellraiser"
Dru Down - "Bloodsucker"
Henry Hall - "Here Comes the Boogeyman"
Classics IV - "Spooky"