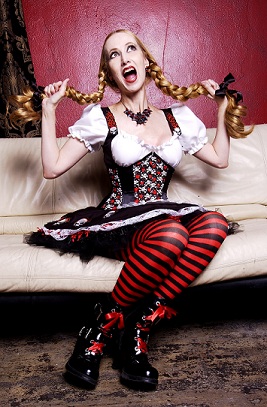 Five questions asked over a glowing Jack o'Lantern, under an Autumn moon obscured by passing clouds...in between mouthfuls of candy corn...Veronique Chevalier of Polka Haunt Us, haunts us with her Halloween...
Why is Halloween important to you?
Besides the opportunity to masquerade as a different character than the person I am in daily life, I love Halloween because it's a socially-acceptable way to celebrate our "Shadow Selves"- those dark portions of the collective consciousness that we try to keep at bay most of the time.
Because our society is so "Darkness Phobic" for want of a better term, Halloween is a welcome safety valve for many people to poke fun at, and with, the things that most folks would rather not have to address directly. And of course, it gives humans a ritual focal point for harvest season. Even though we are no longer an agrarian-based culture, we still seem to have a collective need to celebrate the change of seasons.
Describe your ideal Halloween.
I love performing at Halloween time as my "Hellga The Devil's Beer Maid" character, because it's one of the rare occasions when I get a chance to interact with people of all ages, be it private parties, Harvest Festivals, Halloween Carnivals, etc. Last year I performed at an all-ages punk show, and the kids accepted me as one of their own!
As someone who didn't replicate, I am saddened that our society is so compartmentalized- families with kids interact only with other families and their offspring; and the singles mingle with others in similar situations, and the old folks are all warehoused together, off to the side. Dressing up in costume removes some of the barriers that separate us during the rest of the year.