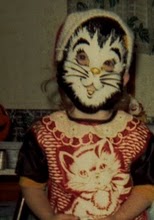 Five questions asked over a glowing Jack o'Lantern, under an Autumn moon obscured by passing clouds...in between mouthfuls of candy corn...Halloween Spirit of Orange and Black shares the colors of Halloween with us.
Why is Halloween important to you?
Halloween is important to me because it's the only holiday of the year on which imagination, creativity and pure fun are given free rein. It's a time of year I have loved and looked forward to for as long as I can remember.
Describe your ideal Halloween.
My ideal Halloween takes place on a crisp autumn night under a full moon as a light breeze swirls through the dry leaves. It's a night in which every house in the neighborhood participates.  Jack-o-lanterns glowing.  Spooky sounds carried on the wind.  Both children and adults in costume.  Streets filled with trick-or-treaters. But with enough treats left over at the end of the evening for a feast of potato chips and Mars bars and a classic Universal horror film.
What Halloween collectibles do you cherish, or hate, or both?
My favourite collectibles are vintage Halloween items from the first half of the 20th century. (I don't actually own any originals, but someday...) Postcards, noisemakers, candles...The images are a perfect combination of innocence and creepiness.
My most disliked collectible (not sure I would call it a collectible; let's say "decoration"): yellow caution tape.
When was your very first Halloween, the one where you really knew it was Halloween, and how was it?
The first Halloween I can clearly recall was in the late sixties when I was four or five.  Oddly, I have no memory of my costume but it was likely one of those vinyl outfits with the plastic mask held in place with the flimsiest of elastic bands. We lived in the country, next door to my cousins, and my mother, dressed as Red Skelton's "hobo" character, walked with me to their house where, together with my aunt and young cousin, we were to go trick-or-treating.  Because we were small and the distance between houses was big, we went by car with my aunt stopping at each driveway as my cousin and I ran up to each house for treats.
Until the time he refused to get out of the car.  Another trick-or-treater, much older, probably a teenager, was dressed as a police officer. My cousin was terrified.  Apparently, he had been told that if he misbehaved, the police would one day come for him, and he now feared that his day had come.  He was scared to death.  In tears.  So I had to get back into the car as we drove off to the next house in the opposite direction of the "police officer".  Then, and for a long time afterward, I could only wonder what treats I had missed out on thanks to my spineless little cousin.
What's the one Halloween question you want to be asked and what's your answer?
Hmmmm . . . I'll keep it simple.
Q: What did you most (and least) like seeing dropped into your trick-or-treat bag as a child?
A: Most: full-size chocolate bars (with Hot Dog potato chips a close second), Least: candy apples--how I hated them (but that's another story...)