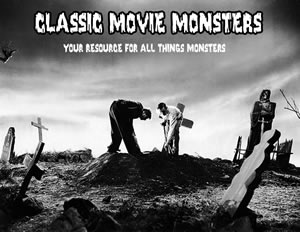 Five questions asked over a glowing Jack o'Lantern, under an Autumn moon obscured by passing clouds...in between mouthfuls of candy corn...Robert at Classic Movie Monsters digs up his best for Halloween, and piles it on into a nice neat mound of everlasting Universal Horror.
Why is Halloween important to you?
Halloween is important to me because it is the only time of year where I can literally be surrounded by the things I love. I am a huge fan of horror movies, especially those of the 1930s and 1940s. During Halloween time, every store has an image of Frankenstein or Dracula in its window and every television station is playing a Halloween themed program.  The world just seems to have monsters in the air.
Simply put: It makes me happy.
Describe your ideal Halloween.
Well my ideal Halloween isn't about partying or drinking, but just having a nice relaxing time.  I try to watch at least one Universal Monster movie on Halloween, then I answer the door for the trick-or-treaters.  But what I really love to do is visit Haunted House attractions.  I'm not crazy about the big ones like Knott's Scary Farm or Universal's Halloween Horror Nights though.  I prefer going to neighborhood haunted house walk throughs where everything is handmade and done for the pure love of it.  There is really something special about that, but as I get older, less of them seem to be around.
What Halloween collectibles do you cherish, or hate, or both?
There is nothing that I can possibly hate that has something to do with Halloween.  If we are talking about collectibles that have to do with strictly the Holiday, I don't have many.  But I have an endless amount of books, figures, statues, models, posters from all of my favorite horror movies.  I can't even tell you how many Frankenstein figures I have!  Looking to my right as I type this, I see a three foot tall statue of a hitchhiking ghost from Disneyland's Haunted Mansion, a bust of Boris Karloff as he appeared in "Bride of Frankenstein", and a model that I built and painted of Claude Rains as "The Invisible Man".  These are the types of things that I love and surround myself with.
When was your very first Halloween, the one where you really knew it was Halloween, and how was it?
Well I guess the first Halloween that I remember was when I was three years old back in 1987.  I dressed up as Frankenstein that year.  It was one of those plastic masks with the string in the back.  I don't remember what we did that Halloween though.  I just remember the costume.
All Halloweens were the same growing up.  All the neighborhood kids would dress up and go trick-or-treating.  The local elementary school also had a Halloween fair that we would spend time at as well.  The thing that really made each Halloween different were the costumes I would be wearing.  I dressed up as many movie monsters including Frankenstein, Dracula, The Wolf Man, The Mummy, and the Hunchback.  I remember the mummy was a great one where I was literally wrapped from head to toe with toilet paper and gauze.  I wish I had a picture of that costume.
What's the one Halloween question you want to be asked and what's your answer?
One thing that I'm always interested in is if someone has ever decorated their house for Halloween and if so, what theme was it?  We did it a couple of times.  Our best one was in the year 2000 when we made our house look like a scene from "The Blair Witch Project".  We set up a tent, put red handprints on the wall, had a human figure facing the wall, and we made many of those iconic stick figures.  It was very creepy and it really worked out well.