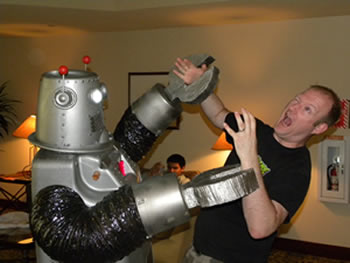 Five questions asked over a glowing Jack o'Lantern, under an Autumn moon obscured by passing clouds...in between mouthfuls of candy corn...
Bryan White of Cinema Suicide says it best: "At the bottom line, Cinema Suicide aims to reach beyond the shallow interactions of your typical blog and create a community that can come together around a concept that we all have in common: A love of really crappy movies." (Bryan's the one on the left.) You can also see him fight humans and monsters in the How to Survive the Strange series of self-help videos.
Why is Halloween important to you?
Aside from the obviously spooky parallels between Halloween and horror movies, I'm not entirely sure what it is that makes me so gonzo for the holiday. When I was a little kid, I would go freakin' nuts for Halloween before I'd ever laid eyes on a horror movie. I was going crazy at the prospect of a giant bag of candy but over time, the creativity of putting together a costume was a huge draw. I'd think of it for months and assemble the parts over time. These days I don't have all that much time to make a kick ass costume but I try. I'm already thinking of what I want for this year and I'm going to be experimenting with latex and makeup to see if I can make it look like my head was cut off and then crudely sewn back on. So you see the appeal. I plan on going out in public like this. A lot of people make like Halloween lets you put on a mask and anonymously run wild for a night but I think it's the opposite. By coming up with a gruesome costume, I get to put on a mask and be the person that I really am in public. As a kid, this doesn't mean squat but as you get older, you build up walls around the parts of yourself that aren't necessarily acceptable in public adult life and Halloween lets me break those walls down for a little while. It's incredibly juvenile and a weird sort of art therapy but I'll take it.
Describe your ideal Halloween.
My ideal Halloween has a couple of layers and it all sort of came together last Halloween. My daughter was old enough to really understand what was going on so this year, Halloween kicked ass. We all dressed up in similar costumes (devils), which I admit is pretty hokey but I don't care. We had a lot of fun. My daughter was cute as hell, even though she thought she was some kind of red Tinkerbell (we couldn't find a Tinkerbell costume in her size), my wife looked hotter than hell and I looked smooth in horns and a suit. We did the trick or treating thing on two nights since we go trick or treating the night before in our town and then the night of in the town my in-laws live in. Two nights of Halloween, y'all! Then we went over to some friends and hung out with the kids in costume while sneaking drinks in the kitchen. It was pretty cool, lots of fun and a whole hell of a lot more relaxed than Christmas which is really just a giant pain in the ass now that I'm older.
What Halloween collectibles do you cherish, or hate, or both?
I don't really have any collectibles related to Halloween. Most of the stuff that comes out seasonally is cheap crap and isn't worth keeping around. As a matter of fact, most of the things I see laying around as the day draws near drives me nuts. You still see a lot of those splattered witch props kicking around. You know, the ones that make it look like a witch flew her broom into a tree. 'F' that noise.
When was your very first Halloween, the one where you really knew it was Halloween, and how was it?
The earliest Halloween I seem to remember, I may have been four or five. My mom made me this Jack O'Lantern costume. I think my sister was a butterfly that my mom also made. This was in Binghamton, New York and we all rolled out to a Halloween parade. This was right around the time of The Empire Strikes Back so I remember all these Star Wars themed costumes roaming around. I saw a Darth Vader that I remember being really cool. This was way before you could just hit the internet and buy replica costuming, so a quality Darth Vader was a hard thing to pull off. We then strolled over to the Oakdale Mall and went store to store for candy. Binghamton, itself, was pretty urban but it's surrounded by vast expanses of nothing and farmland. Trick or treating out where we lived would have been fruitless. At the mall, we made off like thieves!
What's the one Halloween question you want to be asked and what's your answer?
Q: What are your thoughts on candy corn?
A: Digusting. What are they even supposed to taste like? Corn? I'll take a Clark Bar before I take a bag of candy corn. Man, that stuff is nasty!